After Shelli Poole returned to power as one of this week's Heads of Household along with first-timer Liz Nolan we knew things were likely to work out as a repeat of the past few weeks. Then again… hubris!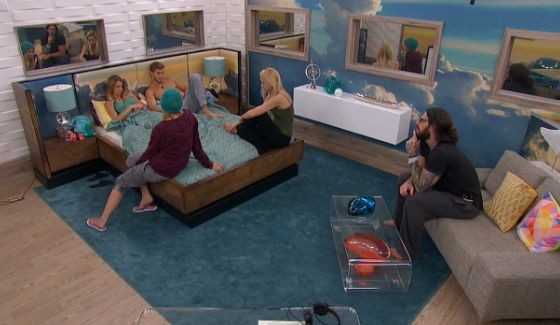 These weren't to be individual HoHs but rather a group effort as Shelli remains clumped with Clay, Austin thinks he owns Liz, and Vanessa is pretty sure she's calling all the shots. This should work out perfectly, right?
Trying to catch up on all the discussions overnight would give you whiplash. Everyone was throwing in their suggestions from the outside, but it was that core of five players who were working overtime to be ready for Friday's upcoming nominations ceremony.
As the night wound down one of the more interesting ideas being floated was for Liz to nominate Jason with either Jackie or Steve while Shelli would nominated Audrey and Becky. Hang on, don't get too excited. Shelli's idea is then for Steve/Jackie (whoever it ended up being) to throw Battle of the Block so Audrey could be safe for the week. Right, because Steve and Jackie feel an obligation to save Audrey at risk of their own game.
It's utter nonsense for Shelli to be so arrogant in her plans that she can get someone to throw Battle of the Block to protect someone else. Not to get someone else BD'd, but for the purpose of protecting a third party. Are you [expletive] kidding me, Shelli? Clay asks why someone would be willing to do that and Austin is quick to explain they'd do it because they're not the real target this week.
Flashback to 4:35AM BBT 7/17 Cams 3/4 on your Live Feeds with a Free Trial if you haven't yet. Vanessa is about to give her summary of what she wants them to do, unless she thinks of a better plan, she explains. The HoHs should put up Jackie & Becky on one side with Jason and Steve on the other. Their renom pawn would be Meg.
Vanessa says this could be their hands-free HoH week because they wouldn't care what happened at BotB or Veto. Let them play it out, says Vanessa. Where was this idea last week?? Well, it actually seems to be a lesson learned from her flip flop week. This way they don't have to try and control the votes, just let things fall where they may and walk away happy either way.