It was a crazy day in the Big Brother 17 house. The Live Feeds were possibly more exciting in one day than they may have been all of last season. And that's because Audrey has been playing a whole season's worth of Big Brother in one week and the rest of the houseguests have caught on.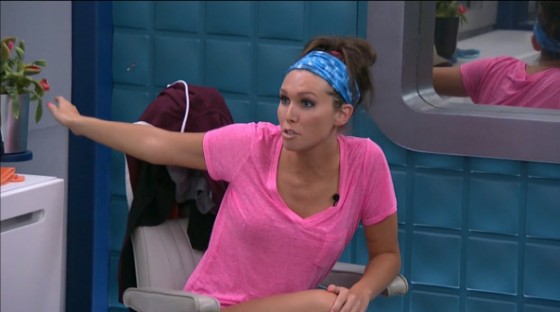 The invisible house meeting went down a little after mid-day Big Brother time and Audrey found herself cornered and without a single solid ally in the end. Clay and Shelli are still quietly showing her support, but they know they can't stick their necks out for her without risking their own game.
Big Brother 17 Live Feed Highlights – Tuesday, June 30, 2015:
10:05 AM BBT – Wakeup time.

10:22 AM BBT – HGs are up getting ready/lowering the outside awnings.

10:35 AM BBT – Jeff tells Austin about everything that went down last night/early this morning with Audrey. They talk about still going with the house to vote out Jace.

10:45 AM BBT – Liz and Jeff in the kitchen talking about how Audrey is the clear target next week. Steven comes in and realizes he's interrupted a private conversation.

10:50 AM BBT – Austin stressing that they can't let Audrey think they're all after her just in case she wins Head of Household.

10:57 AM BBT – Jeff tells Liz they bought themselves another week in the house because Audrey will be going home next.

11:06 AM BBT – John and Vanessa agree to keep each other safe in the game. Vanessa also says she has no actual reason to vote out Jace.

11:28 AM BBT – Vanessa and John are still talking. John tells her he thinks Audrey was the one causing all the problems, but he doesn't want to know. He thinks knowing will make him too involved.

11:56 AM BBT – Austin and Clay are talking about Audrey and how she's been playing everyone.

12:30 PM BBT – James gets his HOH camera. Game talk pauses as they all pose for photos.

1:10 PM BBT – The HGs all pose for a group photo with the HOH camera.

1:30 PM BBT – Da'Vonne, Audrey and Vanessa start talking about all the rumors going around, which results in a house meeting that leaves Audrey cornered.

1:38 PM BBT – HGs start filing into the the Have-Not Room to confront Audrey. Da'Vonne calls out Audrey starting the rumor that Vanessa started an all-girl alliance. Vanessa calls Audrey a "f-ing two-face." Vanessa explains the absurdity that Audrey was starting that rumor. Audrey calls Jason pathological and Jason turns it back onto her. Jason tells her that all the mistrust in the house has all been started by Audrey. Day says her problem is that Audrey preyed on her personally and tricked Day into thinking Audrey was closer to her than she is. Everyone is going at Audrey, so you just need to go to 1:38 PM BBT and watch. It's worth it.

1:46 PM BBT – Audrey turns on the waterworks for Vanessa and Shelli after everyone else leaves the room, but they're not buying what she's selling. Shelli tells her that she loves her and wants to trust her but she doesn't see how she can trust her at the moment.

1:48 PM BBT – Jace fills Steve in on all the things that have been going on involving Audrey.

1:49 PM BBT – Clay tells Audrey that they have been trying to keep people off Audrey, but they can only do so much. Vanessa says that she feels so stabbed in the back. Vanessa says anyone thinking she's some mastermind of an all girl's alliance is just insane. Shelli, who has been one of Audrey's biggest allies, can't even come up with and defense for Audrey.

1:51 PM BBT – Audrey tells Shelli and Vanessa that Da'Vonne is feeling threatened so she's trying to put everything she's said and done back on Audrey. Again, neither Shelli nor Vanessa are buying it.

1:53 PM BBT – Audrey says she feels like everyone is blaming her for everyone else's actions. She says she feels like a "martyr." No, seriously. She said that. Then she says that Da'Vonne and Jason are opportunists and are using Audrey to further their games.

2:04 PM BBT – Shelli and Clay tell Audrey their loyalty has been with her and that they do not want to win HOH next week and that she needs to. Clay tells her that she needs to let everything settle down and to slowly do major damage control. Clay tells her they aren't against her, but they can't jeopardize their game for her and that she has to fix this herself.

2:11 PM BBT – Audrey tells Clay that she's already lost.

2:37 PM BBT – Jeff tells Clay that Shelli needs to stop talking to Audrey before she gets a target on her back as well.

2:39 PM BBT – Clay pulls Shelli out of the room.

2:45 PM BBT – Da'Vonne says Jace still needs to go this week because he's so desperate that he'd make a deal with Audrey.

2:49 PM BBT – Vanessa tells Shelli she left the room with her and Audrey when she realized that what everyone has said about Audrey is true. She said that was the final nail in the coffin.

3:00 PM BBT – Da'Vonne tells Vanessa that she knows the game is going to get dramatic and crazy, but not this early. She says it's just way too early for all of this.

3:14 PM BBT – Things have quieted down a bit, but chit-chat here and there about Audrey continues. Jace tells people that if they keep him he will definitely go after Audrey for them.

3:33 PM BBT – Clay checks on Audrey who has retreated to a bed. He tells her that he's her friend and that she has a lot of time to fix things. Audrey is still too upset to listen to his advice so he leaves her alone.

3:45 PM BBT – Shelli tells Clay about Audrey trying to set up a reason to pit Clay and Jeff against each other. Clay tells Shelli that he knows Audrey is playing her own game, but he thinks she has at least been the most loyal to them. They also compare notes about who Audrey says she wants to go to the end with – she's told them both that. Clay also finally budges on Da'Vonne. He says he knows they've had their differences, but they now need Day and Jason. Clay says all the drama has brought them together. Clay and Shelli agree they need to stay close with that group even though they're all anti-Audrey now.

3:54 PM BBT – Jace goes into talk to Clay and Shelli and asks if they're in an 8-person alliance. He says he needs their votes and is wondering if what Audrey said about the whole house wanting him out was true. Jace says he thinks there's been a plan to get him out (there has been).  Jace says he has several votes but he can't tell them who. Jace isn't great at campaigning.

4:10 PM BBT – Jace continues his campaign pitch and continues to fail at it. He tells Clay and Shelli that if they want to start a revolution, he can get it going. Clay keeps telling him they can't risk his game for Jace even though he wants him to stay. Jace, feels defeated and leaves the room. After he leaves Clay says he's pissed and to never question his integrity.
Things chilled a bit in the Big Brother house and Audrey has been advised by Clay and Shelli to lay low and let things calm down before trying to dig herself out of the hole she's in. Whether or not that happens is anyone's guess. But something tells me, we can expecting more fireworks on the Live Feeds tonight, so if you haven't gotten your Free Trial yet, do so now.
click images to see full-size