The Big Brother 17 house and the Live Feeds seriously only slowed down for maybe 25 minutes total today. After yesterday's house meeting, the HGs spent the rest of the day and evening shuffling and reshuffling alliances and plans in the upcoming weeks.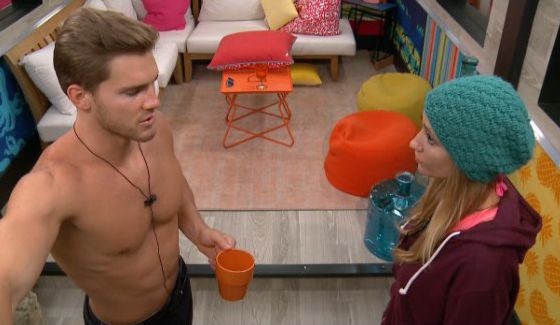 We're talking non-stop action. We've got Jace campaigning in very unorthodox ways. We've got Audrey trying to convince people she's not behind any of the mess that's been going on. We've got Vanessa and Audrey forming a secret deal. And we've got good ole Johnny Mac just laying low watching everyone else implode.
Big Brother 17 Live Feed Highlights – Tuesday, June 30, 2015:
4:50PM BBT – Jeff suggests Audrey just own up to her actions, but she continues to deny wrong doing. Audrey starts to blame Day again.

5:00PM BBT – Austin takes a turn sitting with Audrey as she remains tucked away in bed. Audrey keeps playing the victim and trying to make HGs uncertain about what's been said.

5:05 PM BBT – Austin presses for information and Audrey confirms there was an 8-person alliance. He wants her to name them, but she says they'll know it came from her. He tells her that she doesn't have anyone anyway.

5:26 PM BBT – Becky and Jackie are talking about how right now it's a numbers game and they have to make sure they have numbers on their side.

5:40 PM BBT – Jason tells Jace that he thinks someone will come back this season, so if he gets evicted this week, he could have a chance to return.

5:55 PM BBT – Audrey tells Shelli and Clay that she will target Day, Jason and Meg for pretending to be her friend and turning on her. Audrey suggests she, Clay and Shelli team up with Austin, Vanessa and Jackie to take over the house.

6:00 PM BBT – Clay is getting irritated with Audrey. Things start to get a little heated. He tells her that she's only thinking of herself. Audrey asks why she would even want to work with him since he's acting like that. He says "fine, don't work with me." He tells her what's best for her right now is not best for him and Shelli. Clay and Shelli start pointing out lies that Audrey told them. Audrey says they were honest misunderstandings.

6:08 PM BBT – Jace goes into the room with Clay, Shelli and Audrey and tells them that he's done, he's given up and that he doesn't want their votes. He said he doesn't care anymore and leaves.

6:15 PM BBT – Shelli tells Audrey that she feels like Audrey is trying to make her remember things differently. Clay has had enough and leaves the room.

6:21 PM BBT – Jace and Liz are talking and she is upset about Jace leaving. He tells her not to worry, that he has a plan to flip the house. He tells her he's already acting like he's given up but he actually hasn't.

6:35 PM BBT – Audrey is now talking to Austin. He's giving her advice on how to turn things around. Austin says there's a chance that Jace might stay and that there's a way Audrey could turn things around by working with them and Vanessa.

6:40 PM BBT – Vanessa joins the conversation and Audrey promises her that if she stays in the game she will have her back 100 percent.

7:11 PM BBT – Vanessa tells the backyard gang that Audrey is really good at lying.

7:25 PM BBT – Clay and Vanessa are talking. She says she doesn't know who to trust. He tells her that he has her back.

7:27 PM BBT – Audrey tells Jace that he was the backdoor plan all along and that it was all James' doing. Audrey tells Jace to figure out how to upset Day to deflect negative attention onto her.

8:06 PM BBT – Austin and Vanessa discuss what would be the best move to make. Austin is torn on whether or not Jace should stay in the game. Vanessa says she's considering giving her loyalty to Audrey.

8:17 PM BBT – HGs in the HOH room are talking about Audrey. Clay doesn't want to even sleep in the same room as her because he doesn't want to have to talk game with her.

8:13 PM BBT – Vanessa is trying to make Jace feel better. She tells him she'd rather be him right now than be the "evil douchebag" who got him into this situation. She then asks him if she helps him flip the house can he promise her a final 3 with him and Austin. Vanessa tells Jace to lay low and that they will be gunning for James, who is the person who put him in this position, not Audrey.

8:18 PM BBT – Vanessa goes to talk to Audrey. She tells Audrey that they need to act like they hate each other if they're going to work together. "Call me a bitch or something," Vanessa suggests. Vanessa asks Audrey about the alliance of eight and Audrey tells Vanessa everything. Vanessa asks her that she has to know that Audrey will be her No. 1. Audrey promises.

8:21 PM BBT – Jace comes into the room so Audrey and Vanessa put on a show for the other HGs. They act like they're still at odds and Vanessa asks Audrey why she targeted her. Audrey tells her that she feels like she's been emotionally manipulating people.

8:27 PM BBT – Audrey is talking to Jace now, asking why he's acting like he's given up. Jace asks what she and Vanessa were talking about. Audrey said it didn't go well. Jace says they all need each other, though. Audrey says she agrees, but she doesn't think Vanessa wants to talk to her.

8:41 PM BBT – Jace gets Steve in the lounge room and tells him that he's the next target. He says they've all been playing him and that he's screwed. Jace starts saying really read stuff and using silly analogies. It's all pretty ridiculous. Then it turns to what some might call "bullying" but I'm just going to call it insanity. He tells Steve he should feel like a terrible person. Jace tells him people make fun of him every time he leaves the room and says that he is a giant joke to everyone else.  Jace also tells Steve that everyone calls him Geek Squad McGee and four-eyes.

8:50 PM BBT – Whatever Jace was doing with Steve is still going on. He's not calling him a p*ssy and asking him if he wants American to think of him like that. Steve says he's sorry if he hurt him.

9:00 PM BBT – After all that, Jace ends the conversation by telling Steve his plan to stay is big and that if he doesn't want to go home next, he needs to be a part of it.

9:30 PM BBT – Jeff and Austin are talking about what they need to do next. Austin doesn't know if he can trust Clay and Jeff doesn't know if he can trust James.

10:04 PM BBT – Steve asks James exactly what has gone down with Audrey. James tells him that Audrey has just been lying a lot and starting rumors.

10:37 PM BBT – Vanessa and Day are talking. Day tells Vanessa that no one is coming for her. Vanessa says she doesn't know who to trust and says if Day knows of any group looking for a member to let her know.

11:20 PM BBT- Steve is checking in on Audrey who has buried herself away in bed. He's offering to bring her things so she can stay there.

12:00 AM BBT – Clay and Shelli with Jeff agree on making a serious alliance, but Clay wants at least another three people in on it.

12:05 AM BBT – Steve back to talking with Audrey. He asks if she wants to flip the vote. Yes. She tells him about the 8-person alliance.

12:30 AM BBT – James questioning Audrey on what went wrong. He thought all was well and he was taking the blame for Jace then things went nuts. They have a long, long talk while HGs gather in the living room to listen in from a distance.

1:15 AM BBT – Jace tells HGs in the backyard that their alliances with each other are fake.

1:20 AM BBT – Audrey telling Vanessa that she wasn't very public before this and stayed in her parents' house.

1:35 AM BBT – Audrey suggests to James that Becky has made racial slurs. James doubts it. (Few days ago, Audrey accused Steve of making homophobic slurs. Hmm.)

3:10 AM BBT – Jace is apologizing to Jason about his outburst earlier regarding the alliances. He says he woke up to Audrey & James throwing his name around and he wanted to get it off his chest.
So Jace got close to safety a couple of times throughout the day, but it seems like his fate is sealed. Audrey's fate, however, is still up in the air as she has found a few new opportunities. One thing is certain, though, and that's that Week 2 is going to be one crazy week.
You can watch all of these Big Brother events using the archives Flashback, the DVR-like feature of this year's Live Feeds which means it's always live, even when you missed it! Sign-up now to get the free trial to watch it all live & uncensored.
click images to see full-size