Today we were reminded of the best thing about Big Brother: Live Feeds. Oh yes, we just had a fantastic blow out on the Feeds and the Big Brother 17 house is reeling from Da'Vonne Rogers taking on Audrey Middleton and all her drama.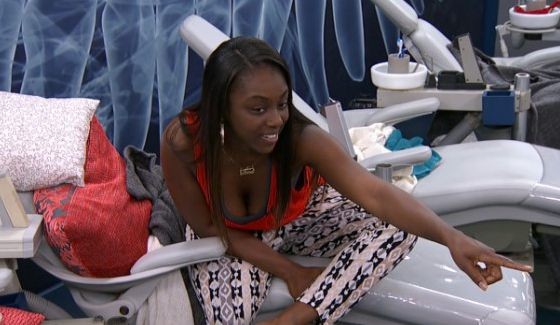 Things were still boiling from last night's revelations as the final dominoes fell against Audrey when Clay Honeycutt and Shelli Poole were convinced of the manipulation used against them. Da'Vonne had heard enough things about her that had supposedly come from Audrey to push her over the line.
Flashback to 1:30PM BBT, Cams 3/4, and you'll find Vanessa Rousso, Audrey, and Da'Vonne. They're trying to sort out a rumor started that there was an alliance of the ladies who were all wearing black. Vanessa was crying earlier that she had been accused of things along this line.


Day challenges Audrey on whether or not she's been spreading anything negative about her. Audrey denies and Day presses again. Audrey continues to deny so Day leaves to find Jason in the Lounge. She updates him and says it's "Game On!"
Soon the Have-Not room is filled with Houseguests as they file in thanks to Da'Vonne gathering up the interested parties. Flashback to 1:38PM BBT Cams 3/4. Sparks fly and Day does not hold back. She goes around the room getting examples from everyone on what they've heard and who told them. All roads lead to Audrey.
Audrey tries to deny, deflect, and defend but it isn't work. She tells the Houseguests, "you're all pathological!" Jason shouts back, "YOU are pathological!" The game is up for Audrey.
Unfortunately for the pre-existing plan to target Audrey for eviction next week, they cover is blown and there's no way Audrey will be relaxed going in to any upcoming comps. She knows she's likely playing for her Big Brother life from here on out.
You have got to start watching this on the Live Feeds. You can rewind to anything you missed and be ready for anything yet to come. It's $5.99/month and has a 1-week Free Trial. It's awesome. Join us!