Things continue to get a little worse for Audrey Middleton's game on Big Brother 17, but is anyone really surprised when she's been overplaying and forming new alliances by the handful? All day yesterday HGs were comparing notes on Audrey's game but it wasn't until last night that the pieces really came together.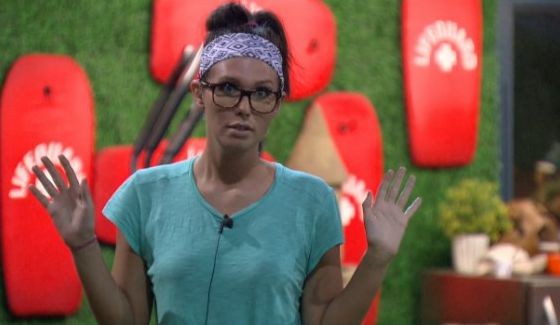 Part of James's plan to renom Jace at the Veto Ceremony involved a short song about his long hair, but he ended up not using it as you'd expect. So later when Jace sang that very same song the House started to wonder how he had found out. Hmm.
Last night the mega-alliance's members James, Meg, and Audrey were up in the HoH room, Flashback 6/28 11:51PM BBT Cams 3/4, when the issue was raised about Jace having the lyrics to James's song that supposedly hadn't been shared outside of their alliance. James is very concerned about this and wants to investigate.
Audrey starts throwing out every name possible including Clay who she surprisingly tries to blame as well. James soon brings Clay and Da'Vonne up but there still aren't any answers.
Now for the fun part. Flashback to 12:41AM BBT 6/29 Cams 1/2. Jason, Meg, and James gather in the open bedroom and confirm what they're all thinking. It's Audrey. They excitedly share details and theories on how Audrey is the one running these leaks. It's definitely worth listening to as each share their parts of the puzzle to put it all together.
Later Jason talks with Clay, ohh bad idea, about his Audrey concerns and of course Clay runs that back to Audrey. She says she's going to drop off the social scene for awhile and try to law low. Then she tasks Clay with staying close to Jace to avoid any more issues and Clay runs off to do as he's been told.
Jump to 3:25 AM BBT to find Meg, James, and Jeff in the hammock sharing their latest updates on the Audrey situation. Jeff has already warned Jackie to stay away from Audrey so the House awareness rate continues to grow. As James puts it, so what do they do now about it?
Audrey's trust factor in the house is sunk except with probably Clay and Shelli. Clay has so far refused to accept details that Audrey can't be trusted and Shelli seems to follow Clay's lead on the alliance front. As for the rest of the house, I'd expect them to work with her as they need in the moment, but when drama breaks and the source is a mystery, it won't take long for them to start blaming Audrey.
We've got four days until Jace faces eviction so you never know, but we can expect more drama courtesy of Audrey pursuing unnecessary conflicts when her security was already well established.
Want to watch these events and everything else coming up? Jump on the Live Feeds and use Flashback to rewind to any moment all season then get ready for the next big thing. Get your Free Trial now!