Saturday was a mess in the Big Brother house. A hot, hot mess. All the better for us as we enjoyed Veto panic with a Head of Household that can't help but overthink every move of every day.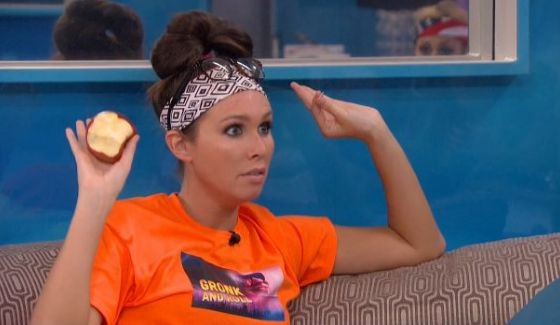 Instead of tackling each problem as it arises and using prerogative of HoH as justification we watched as a potential renom decision became a fight spawning cluster. It was pretty great. Oh, and the HoH becomes convinced, convinced that Clay is a twin.
Big Brother 17 Live Feed Highlights – Saturday, July 11, 2015:
9:40 AM BBT – HGs getting up and Austin is upset that they may be protecting Liz/Julia at risk of their own games. Austin goes on for 20+ mins that Liz hurt his feelings by sleeping downstairs with another guy instead of upstairs with him.

10:30 AM BBT – Liz comes up and sees that Austin is upset with her. She gets worried and tries to explain she didn't want to put a third person in that small bed. He tells Liz it made him "feel dirty" and "very angry" that she would share a bed with another guy.

11:05 AM BBT – Audrey swearing to Vanessa and Austin that she did not promise Da'Vonne her vote last week (she did) and she did not vote to keep Da'Vonne (she did).

11:25 AM BBT – Julia is back in the house. She's flustered about everyone knowing and starts cleaning off nail polish to match her sister.

12:10 PM BBT – Austin and Vanessa celebrating the Veto players pick. Audrey, Shelli, and Austin were drawn/picked to play in the comp. James is up against tough odds.

12:20 PM BBT – John is relieved with the Veto players list. He's told Austin/Vanessa/Shelli will all save him if they win. They won't. Their plan is to throw it to Audrey so they don't have the pressure to use it.

12:41 PM BBT – Clay asks James why the show is called "Big Brother." James tries to explain, but Clay clearly has no idea. Sigh.

1:10 PM BBT – Drama! Audrey brings Meg up to HoH room. Vanessa wants to stage a fight to create justification that Audrey shouldn't go up as renom by "exposing" lies that Audrey was trying to flip the vote last week. (Audrey actually was.)

1:15 PM BBT – Things are getting very heated and Meg is yelling at Audrey that Audrey is lying (she is). Audrey starts yelling back. It's very tense. Vanessa keeps trying to make excuses for Audrey. The whole thing is transparent, but Meg might be too distracted by Audrey to notice what Vanessa is trying to do.

1:35 PM BBT – Back downstairs and Meg is pissed at what just happened. They've figured out Vanessa has no plans to renom Audrey. (Correct.) Upstairs Vanessa claiming Meg yelled at her and slammed the HoH door. (Well, you can't.) Vanessa questions why Meg would feel so safe this week. (She is safe this week. She won Battle of the Block.)

1:45 PM BBT – Vanessa thinks Jeff is a twin and has been switching out. Austin tries to explain fraternal twins. (They're non-identical.)

5:20 PM BBT – Feeds return and John has won the Power of Veto. Vanessa is very flustered and upset with Austin. She feels he let John win and didn't try hard enough in the last round.

5:40 PM BBT – Vanessa is stressing her renom since she knows John will use the PoV. She's determined to create any justification, true or not, to get support on Jeff going up instead of Audrey.

6:10 PM BBT – James, Jackie, Jason, and Meg have all mentioned expecting Audrey to go up against James.

6:45 PM BBT – Audrey swears on her "Big Brother game" to Vanessa that she didn't vote for Day to stay this past week.

7:00 PM BBT – Audrey is getting emotional that no one wants to be around her or talk to her. She's asking if they can pretend like she's in the house again.

7:10 PM BBT – Vanessa tells Shelli she is convinced, completely convinced, that Clay is a twin. Shelli feels hurt that she's possibly being played by twins. Shelli says Clay has been acting weird and not taking his medicine that she finds all over the house. Thinks maybe the other twin takes it so one of them doesn't. Vanessa says his hair changes from day to day and one has a scratch on his knee.

7:30 PM BBT – Shelli advises Vanessa to just toughen up and renom Jeff if that's what she wants to do instead of worrying about justifications.

8:35 PM BBT – Gronk is back with his part of the BB Takeover. They'll have mini parties and have to do what he says or they'll become Have-Nots.

8:55 PM BBT – HGs instructed to run to the shower and everyone has to get in.

10:20 PM BBT – Vanessa working on her renom speech. Wonders if they should like to Jeff about being the new target.

11:40 PM BBT – Another Gronk Party. They have to make togas and dance around in the living room.

12:25 AM BBT – Audrey working on Vanessa, telling her she deserves to stay and she's being truthful with her.

2:45 AM BBT – Gronk Party. Limbo time in the backyard.

4:25 AM BBT – Austin working on a deal with James. Says he wants to save him this week.

4:30 AM BBT – Austin confronts Jeff that he's been telling HGs that Austin is his target. Next Jeff goes to talk to Clay and Shelli. They've been told Jeff wanted to split them up. Jeff is denying it.

4:35 AM BBT – Jeff turns it around and starts blaming James as the one who is questioning Austin.

4:40 AM BBT – Vanessa joined the group meeting and is getting heated. She's in Jeff's face yelling at him that he tried to start an alliance with her but then didn't. Vanessa is doing this to shore up support for a Jeff renom.

4:45 AM BBT – Jeff, Clay, and Shelli stay in the bathroom and Jeff is trying to patch things up with them.
The Houseguests are still up right now at 6AM and working through lots of drama. They're waiting for the next Gronk Party which has kept them up and moving around. I can only see this drama growing for the next several days.
You can watch all of these Big Brother events using the archives Flashback, the DVR-like feature of this year's Live Feeds which means it's always live, even when you missed it! Sign-up now to get the free trial to watch it all live & uncensored.
click images to see full-size