Audrey has calmed down a bit on the Big Brother 17 Live Feeds, but it's almost like she passed the torch to Jeff, as he spent the evening going from houseguest to houseguest declaring war against Audrey.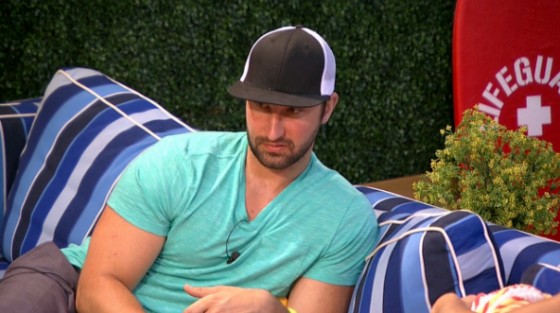 Jeff's quest was seemingly successful, too, as he managed to get most of the house on board. OK, they were already on board because they're tiring of Audrey pulling everyone's strings. But Jeff was definitely the star of the Live Feeds for most of the evening.
Big Brother 17 Live Feed Highlights – Monday, June 29, 2015:
4:17 PM BBT – James and Meg no longer trust Audrey and agree to not tell her any real information.

4:28 PM BBT – Austin and Liz are talking about laying low and not playing so hard. Austin says he doesn't trust James.

4:51PM BBT – Meg comes up with a plan to handle Audrey.

4:53 PM BBT – Da'Vonne tells James and Meg that Vanessa is a professional poker player.

5:30 PM BBT – House is mostly quiet.

7:40 PM BBT – HGs bring up an interesting point that Vanessa hasn't been up to the HOH room and Liz has only been up there once or twice.

7:59 PM BBT – Jeff working to distance himself from Jackie. He even tells some of the others that he wishes someone else from The Amazing Race was there. When he says  her name, feeds cut to fish.

9:17 PM BBT – Da'Vonne tells Jeff that Audrey is coming for him. Day tells him that Audrey tried to plant the seed that Jeff and Meg are in a showmance and that they're making her nervous. Jeff says Audrey is crazy and says he thinks they're all on the same page now that they have to get Audrey out of there.

9:27 PM BBT – Jeff, fuming from what he learned from Day, tells Austin that he's targeting Audrey. He says he's given her multiple chances and he's done. He tells Austin that he knows they had a shaky start, but he'd never put him up now because he's after Audrey. Austin says not to worry because there's an "underground movement" to get her out. Austin also tells Jeff not to involve Clay because he's too close with Audrey.

9:40 PM BBT – Jeff is making his rounds Audrey-style. Now he's talking to Liz about how Audrey has to go because she's telling people lies like he and Meg are in a showmance and are collaborating to get Audrey out.

9:49 PM BBT – Jeff catches John and Becky to throw in an "Audrey is f-ing crazy" moment, but unlike most of the house, those two just take the information in and continue laying low as they should be in week one.

9:52 PM BBT – Jeff does what Austin and Jason have told him not to do and goes to Clay about Audrey. He tells Clay that she's been acting weird and trying to stir stuff up against himself. Jeff then tells Clay that there's a rumor that Meg and himself are scheming to target people in their alliance.

10:54 PM BBT – Clay tells Audrey and Shelli that Jeff told him someone is making up rumors that Jeff and Meg are collaborating to get people in their group out. Jason walks away and Audrey says she doesn't trust him.

11:04 PM BBT – Da'Vonne and Jeff are talking about ways to target Audrey. They agree she has to be backdoored so she can't win her way off the block. Day tells Jeff that the reason why they are on Audrey's radar is because they have her figured out.

11:28 PM BBT – Audrey tells Meg about what Clay told her Jeff said about her and Jeff rumored to be collaborating. Audrey says it's annoying though because Clay doesn't know who Jeff heard the rumor from. Audrey then asks Meg how much she trusts Jason on a scale of 1-10. Meg says she trusts him. Audrey says if she wins HOH she would backdoor Da'Vonne because she and Jason make her nervous. Meg asks "don't you think other people in the game are more of a threat?" and asks who else she'd put up. But Audrey is really focused on Day.

12:18 AM BBT – Audrey tells Jeff that Clay told her about the rumor from earlier. She asks him where he heard it and he says Jace.

12:25 AM BBT – Jace campaigns to Jeff, asking him to vote out Jackie.

12:51 AM BBT – Jeff pulls Clay aside and lets him know the entire house is out against Audrey. He explains what she's been doing. Jeff doesn't want Clay to tell Shelli and especially not to tell Audrey.

1:05 AM BBT – Clay tells Jeff he's on board and to let the evict-Audrey movement know he's with them.

1:20 AM BBT – Audrey and Shelli have found Clay and are interrogating him on his long talk with Jeff. Clay didn't come prepared for that.

1:45 AM BBT – Clay is pushing back on Audrey saying he trusts her and yet she keeps going at him like this.

1:55 AM BBT – Audrey wants Jeff there to tell his side of things. Jeff is handling it better (lying) than Clay was. Jeff shifts things to the topic of Austin.

2:15 AM BBT – Jeff & Clay pull Shelli in to the Lounge and tell her the deal about Audrey lying and causing the problems. Jeff says Audrey is going down and taking them with her if they don't get away.

2:25 AM BBT – Audrey just busted in to the Lounge and caught Clay, Shelli, and Jeff talking. Uh oh.

2:55 AM BBT – Audrey went up to HoH to wake up James and is trying to cast blame on Da'Vonne and Jeff.

3:05 AM BBT – Jeff lets Da'Vonne know everyone is learning about Audrey. Jason joins them and finds out as well.

3:25 AM BBT – Backyard plotting ends when Audrey walks out. Audrey and Jace start going at it.

3:30 AM BBT – Clay tells James he and Shelli are on board with going after Audrey.

3:35 AM BBT – Audrey and Jace are shouting. She tells him his renom wasn't last minute and the whole house knew.

3:45 AM BBT – Jace really, really wants to call a House Meeting. Jeff walks him back saying it won't change the votes. Earlier James promised Jace he can have the HM tomorrow.
So we and the house got a reprieve from Audrey's rounds, but Jeff definitely picked up the slack. It's shaping up to be an all-out war between Audrey and Jeff, but then again, Audrey's sights seem to go from person to person, so we could have a house vs. Audrey war on our hands soon. It's definitely going to be a crazy week next week.
You can watch all of these Big Brother events using the archives Flashback, the DVR-like feature of this year's Live Feeds which means it's always live, even when you missed it! Sign-up now to get the free trial to watch it all live & uncensored.
click images to see full-size