The Big Brother 17 comes alive at night, late late at night, and last night was no different as Jace Agolli faced off against Audrey Middleton while Jeff Weldon worked to eliminate the last of her support.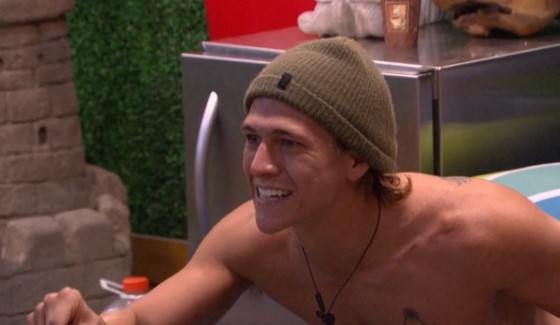 Jace is looking like a lock for eviction on Thursday, but that hasn't stopped him for campaigning for votes and including a lot of his focus on Audrey for the games she's been playing. Of course the other Houseguests have become away of what's she's doing but that isn't likely to stop Jace from going. Nor is it going to stop the drama. Excellent.
Flashback to 6/30 3:25AM BBT Cams 3/4 on your Live Feeds (get the Free Trial now to watch). Audrey has been alerted to Jace and heads out to the backyard to shut him down. She says she doesn't think it's fair for James to take all the blame for Jace's renom. Then she says she's tired of taking the blame for the renom. I dunno.
Audrey reveals to Jace that every knew he was going up, which is true, but Jace says it's a lie. He is still believing James's story that someone got in his ear just before this week's Veto Ceremony. Jace pushes back saying Audrey fills the house with her lies. She demands examples but he doesn't give them.
Voices are raised as the two begin to yell at each other. Jace says she's the next target and is going home next week. (Shh, Jace. Shh.) Audrey denies this and tells him no one is coming after her.
They continue on for five minutes going back and forth as the rest of the present HGs do their best to stay out of it. So what about Jace's claims that she's next? At the moment he's right on the money, $500K worth of money.
Jump back that night to 12:51AM BBT Cams 3/4. Clay starts out saying how much he trusts Audrey for what she's told him. Jeff breaks it down with examples of all her lies. Soon Clay realizes Jeff is right and Audrey is the troublemaker. He sees this could easily pull his game down with hers and promises he's with Jeff and now against Audrey.
Time to pull in Shelli. Go to 2:15AM BBT Cams 3/4. Jeff was worried to tell her since he expected Shelli to want to run it back to Audrey. Luckily for Jeff, Clay convinces Shelli with more examples and is soon in agreement.
Adding to the excitement their hidden whisper fest, at 2:19AM BBT, Audrey walks in to the Lounge and catches all three together. Cover story time! Jeff quickly shifts to be about Jace planning a big move to try and stay. We're at full circle as Audrey is ramping up to shut down Jace's plans.
By the end of the night Audrey seems worried, but continues to believe Clay & Shelli have her back. She's promised to lay low for the next two days and stop talking game, but the last time she made that promise it lasted a few mins. Get ready for more wild & crazy today on the Big Brother Feeds!