It's been a somewhat mild day in the Big Brother 17 house. The Live Feeds have mostly included lounging, swimming and eating. In other words, Audrey slept late and hasn't started making her rounds yet. So let's appreciate the quiet day, because it surely won't be a quiet night as the houseguests start getting bored and start thinking about what's going to happen in the game next week.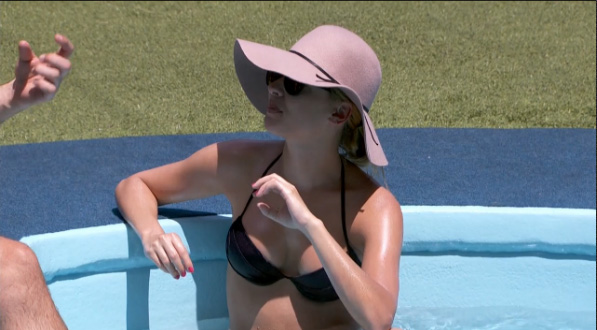 As for Jace, the campaign to stay in the house has slowed down as he spent most of Sunday blowing up and basically securing himself as the first person evicted from Big Brother 17.
Big Brother 17 Live Feed Highlights – Monday, June 29, 2015:
9:30 AM BBT – HGs finally getting up for the day after staying up all night again.

10:10 AM BBT – Jason and some others are talking about the Live Feeds. Jason thinks they're boring and he doesn't want to sleep late because he wants to enjoy the experience.

10:45 AM BBT – Clay tells Austin to be careful around Liz because she has said she's trying to distance herself from Austin. They also talk about making sure they keep Vanessa close and keep that alliance with her strong.

11:00 AM BBT – Vanessa asks Becky if she knows of anyone who doesn't trust her. Vanessa wants to build trust with everyone. They agree that Austin is pretty hard to read. Vanessa says he's clearly a good actor since that's half of what his wrestling career entails.

12:30 PM BBT – General chit-chat going on. Steve talking about past seasons of Big Brother.

12:40 PM BBT – Austin says he's going to begin campaigning for Jace and that he should lay low from now on. Jace says he thinks the producers want him to stay.

1:30 PM BBT – HGs are just enjoying the day. Not much game talk is going on at the moment.

2:15 PM BBT – Jace is seemingly bummed that he's getting evicted. Da'Vonne tells him that the season is so long that he might get a chance to come back to the game.

2:29 PM BBT – Shelli tells Jace about the Season 5 Twin Twist. She explains how Natalie and Adria would trade places in the Diary Room. Liz, unfortunately, was no where around.

3:02 PM BBT – Jace and Vanessa talking game. She says she's the last to know everything. Jace tells her that's not a bad thing. He also says being nominated outright is better than not being nominated at because you can win Battle of the Block and save yourself. He says if he stays this week, he's going to volunteer to go up every week.

3:04 PM BBT – Jace tells Audrey and Meg he had a dream last night that was a message from God telling him who backstabbed him. He won't tell them who it was, though. Audrey tells them about a similar prophetic dream.

3:07 PM BBT – Jace tells Audrey he's done fighting with her. They agree to not confront each other any more. Jace says he's not going to blow up anyone's game when he gets evicted.

3:13 PM BBT – Audrey and Meg are talking about scenarios. They're wondering who would nominate whom next week. Audrey doesn't feel safe if Da'Vonne and Jason win HOH.
It sounds like Jace has decided to lay low and accept his fate, but he's not exactly giving up. He's still tossing in a few quiet campaign points here and there. But unless the HGs get super bored, I think Jace will be the first evicted.
You can watch all of these Big Brother events using the archives Flashback, the DVR-like feature of this year's Live Feeds which means it's always live, even when you missed it! Sign-up now to get the free trial to watch it all live & uncensored.
click images to see full-size