It was nomination day in the Big Brother 17 house and another backdoor plan has been set in motion.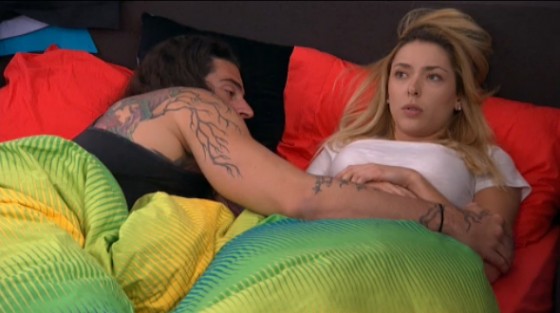 It's Austin who could be finding his way out of the house through the backdoor this week and since Julia has been in the house through all of this, it's going to be interesting to see what Liz thinks of the plan because Julia is all for it.
Big Brother 17 Live Feed Highlights – Friday, July 24, 2015:
8:35 AM BBT – Early wake-up for the BB HGs.

9:25 AM BBT – Vanessa and Jackie going over their deal again. They have a deal through Top 8 and won't backdoor each other this week. They agree Austin is the first target and if that doesn't work out then it can be Steve.

9:42 PM BBT – Feeds cut for nominations.

11:06 PM BBT – Feeds back. Liz/James and Clay/Becky have been nominated.  Vanessa tells Liz/Julia that she is not the target.

11:07 PM BBT – Julia tells Vanessa that Judas, Austin's alter ego, voted to evict John this week. Vanessa is not happy. They talk about filling Liz in on everything when she and Julia switch next.

11:20 PM BBT – Jackie, Vanessa and Shelli talking about what to say to Austin if they get to backdoor him this week.

11:26 PM BBT – James shows up to confirm that they want him to throw the Battle of the Block competition. They all says yes. Vanessa really wants dethroned this week so she doesn't have to get any Austin or Steve blood on her hands. Their exact plan would be to take James off the block with veto and put Austin up next to Liz, assuming Clay and Becky win BOB.

11:37 PM BBT – Austin tells Julia he's not worried this week. He says he's good with Jackie and Vanessa.

12:38 PM BBT – Vanessa tells Shelli that Julia came to her to tell her that she's really concerned about Austin because he told her that he was the hinky vote for Audrey. Shelli says she wants to kill him. Vanessa also told her about the Judas tattoo on the back. Vanessa has to explain to Shelli what Judas means.

12:40 PM BBT – Shelli reminds Vanessa about the double blink in case she ever needs to tell her something is going on and can't say anything at that moment. Vanessa also tells Shelli that she trusts people too much so she's going to rely on Shelli to pull her back when she starts trusting the wrong people too much.

12:43 PM BBT – Shelli tells Vanessa that they can't call their alliance with Clay Three's Company because it's trademarked.

12:44 PM BBT – Vanessa tells Shelli she thinks that Austin might have been the person voting oddly all season. Shelli says she wouldn't doubt it because she's never trusted Austin.

1:00 PM BBT – Shelli and Vanessa now talking about how much Clay needs to win Battle of the Block to make all of this happy. Shelli is nervous for him and says she'll die if she doesn't come off the block.

1:05 PM BBT – Vanessa again says she wants to be dethroned this week and have no blood on her hands this week.

1:15 PM BBT- Shelli and Vanessa name their alliance Vanelli.

2:41 PM BBT – House is dead. Johnny Mac is laying by himself in the hammock room and Austin is on the couch in the living room.

3:03 PM BBT – Liz is called to the Diary Room so Julia can switch out with Liz.

3:28 PM BBT – Liz comes out of the DR and Austin immediately rushes her for a hug.

3:30 PM BBT – Austin is filling Liz on what's gone down (at least the version he knows).

3:43 PM BBT – Austin gets Liz to go to the bedroom and he immediately starts touching her. He continues telling her what he thinks is the plan this week.

3:49 PM BBT – Austin tells Liz how "Judas," not Austin, voted for John.

3:56 PM BBT – The final Wackstreet Boys performance is announced. HGs gather to watch John, Jason and Liz perform a final time.
You can watch all of these Big Brother events using the archives Flashback, the DVR-like feature of this year's Live Feeds which means it's always live, even when you missed it! Sign-up now to get the free trial to watch it all live & uncensored.
click images to see full-size