Sunday funday in the Big Brother 17 house thanks to Audrey and her former allies building their case to send her home this week. If she's going out then she's doing it in grand fashion.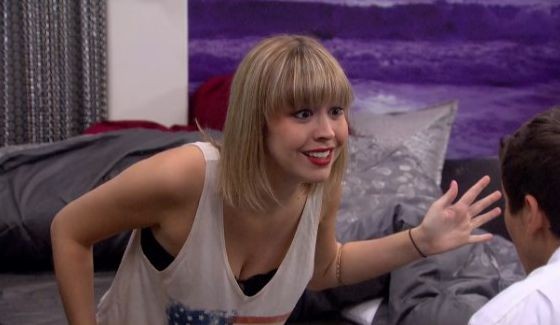 Things started out slow, but by lunch we had fireworks with Audrey, Clay, Shelli, and Vanessa that lasted for over two hours and set the stage for a big storm as Audrey threw everyone in to the fire.
Big Brother 17 Live Feed Highlights – Sunday, July 19, 2015:
9:15 AM BBT – Jason and John out in the backyard following another Wackstreet Boys performance, but both head back to sleep after John lingers awhile.

10:50 AM BBT – John asks Clay what's their plan. Clay says they'll BD Audrey this week.

12:51 PM BBT – Audrey arrives outside to commence arguing with Clay. Things elevate as they accuse one another of causing problems. This goes on for nearly an hour before continuing elsewhere.

1:40 PM BBT – Shelli tells Vanessa she wants her to use the Veto on Jason since it'd be easier to campaign for JMac against Audrey.

1:45 PM BBT – Clay is upstairs in HoH after Audrey fight telling Shelli & Vanessa what's been going on. Audrey tries to come in but Clay blocks her and tells her to go away.

1:52 PM BBT – Audrey finally gets in the HoH room. Clay and Vanessa duke it out with her while Shelli sits silently and watches.

2:38 PM BBT – Clay gives up and yells his way out of the room. Vanessa soon follows and they commiserate on the events.

3:05 PM BBT – Audrey and Shelli remain in the HoH room. Audrey tells Shelli she's not dumb and knows there could only be one outcome from this.

3:35 PM BBT – Becky points out to HGs that if they don't do this soon then Audrey will be in Jury House with them and drive them nuts with constant paranoia.

3:50 PM BBT – Vanessa trying to make a deal with Jackie that would also encompass her for safety if she used the Veto on John or Jason. Jackie declines saying she's already good with both of those guys.

4:10 PM BBT – Audrey is working on James. She tells them there's a six-person alliance and names names. He believes her and agrees to start spreading the word. Audrey wants him to flip the vote to keep her over JMac.

5:00 PM BBT – James brings Jackie to Audrey so she can tell her the same story.

5:30 PM BBT  – James tells Clay and Meg what Audrey just told him.

6:05 PM BBT – Meg and Jason decide they don't really care if there's a six-person alliance because Audrey can't get them anywhere in the game anyway.

6:36 PM BBT – Vanessa has heard what Audrey has said and she is telling James that it's a lie. She asks him if he wants Audrey to be backdoored this week. He says yes.

6:55 PM BBT – BB opens up the Photo Booth. HGs start taking photos.

7:00 PM BBT – Clay tells Shelli about Audrey exposing them but no one seems to care. Shelli gets mad at Audrey.

7:21 PM BBT – Shelli and Vanessa start talking about the latest thing with Audrey. They agree that it would be smarter to take Jason off the block and leave John up so that they definitely have the votes to get Audrey out this week.

7:23 PM BBT – Vanessa asks Shelli to pull her back when she gets really wound up.

8:01 PM BBT – Shelli, Clay, Jason, James and Meg go to the HOH room to discuss what Audrey told James. They all start comparing notes and explaining how they aren't interested in anything Audrey has to say.

8:39 PM BBT – The entire house is now in the HOH room and they're all trashing Audrey's game. They're all on the same page about Audrey going up this week and they all vote her out.

8:45 PM BBT – Shelli wants everyone to agree that it won't be her putting Audrey up but "the house."

9:11 PM BBT – HOH meeting still going on. Vanessa and Shelli stress that they do not want people to be mean to Audrey. They don't want any kind of mob mentality or mistreatment going on this week because it's all a game. They all agree that Audrey is fun and they like her but her game play is why she has to go.

9:20 PM BBT – The HOH meeting has broken up.

10:00 PM BBT – House has calmed down for a bit. Game talk pauses as people eat and chit chat.

11:00 PM BBT – Everyone but Audrey playing charades.

11:40 PM BBT – HGs are wondering why they haven't seen Audrey in a while. Speculation starts that she's gone to the DR to leave the game. They think she's been the DR for two hours.

12:00 AM BBT – Feeds are having technical issues, so no one can see what's going on.

12:02 AM BBT – Audrey is out of the DR and back in the have-not room. Self-eviction speculation can stop.

12:40 AM BBT – James and Jackie agree that Audrey's mistake was coming to the two of them with this information. Jackie wants to put up Liz and Vanessa or Austin if she gets HoH.

12:45 AM BBT – Austin tells Julia he wanted to see Jason gone this week and Audrey another week. He thinks they may need to bring in John to their alliance and tell him about the twins.

2:05 AM BBT – Vanessa is with Audrey trying to help her relax and talk her down from being stressed out. Vanessa talking her out of quitting the game.

2:30 AM BBT – Jackie and Becky talking. Jackie tells her she was told Liz nom'd her over jealousy with Austin. Jackie doesn't think the 6-HG alliance story from Audrey is true (it is).

3:05 AM BBT – Audrey is curled up in bed. Vanessa, James, and Meg are trying to help calm her down.
Note: Feed times have jumped by about 20 mins overnight. These are the clock times they appeared vs Feed times in case that's a glitch.
There's little doubt as to what will happen at Monday's Veto meeting and once she's there her former alliance won't have the votes to stop it. We've got Audrey marching toward the door this week, but I doubt we'll see her go out quietly.
You can watch all of these Big Brother events using the archives Flashback, the DVR-like feature of this year's Live Feeds which means it's always live, even when you missed it! Sign-up now to get the free trial to watch it all live & uncensored.
click images to see full-size