After Sunday's blow up between Big Brother Houseguests Audrey Middleton and her former allies Shelli Poole, Clay Honeycutt, and Vanessa Rousso there was little mistaking what was going to happen next leaving Audrey with little time to make her move.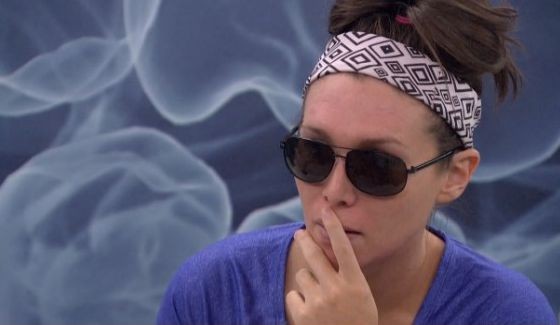 After telling Shelli she knew there could only be one outcome from this situation she collected herself and went downstairs before pulling James aside to tell him the truth. But would anybody believe her?
Flashback to 4:15 PM BBT 7/19 to find Audrey whispering with James in the Have-Not room. She reveals to him that there is a six-person alliance in the house and they're systematically targeting and eliminating his side of the house. James is shocked and realizes it explains why he's been nominated twice.
Audrey continues to give him information like how the Vanessa/Jeff fight was staged as Jeff had suspected. She says they need to evict John and create an alliance and gun for the other side. After twenty minutes of talks they high-five and James goes off to start a rally.
James is talking with Meg in the back bedroom when Clay arrives. Meg was very doubtful of this six-person alliance theory and when Clay joins them James starts telling him everything too. Good grief. Clay immediately starts denying it all as crazy talk and Meg joins in agreeing with Clay's reaction.
Meg goes to find Jason and tells him this theory of a super alliance controlling the game. Flashback to 6:05PM BBT. Jason and Meg agree that they don't care if there's a 6-person alliance. They don't trust Audrey and think this other alliance will get them farther in the game then she could. Are you kidding me?! You knuckleheads! If you're not one of the six then you're one of their targets! Good grief.
Flashback to 8:00PM BBT as Shelli, Clay, Meg, Jason, and James gather in the HoH room where Shelli tells them it's all a big lie from Audrey. They smile and nod agreeing to walk the plank like good sheep.
Shelli soon collects everyone but Audrey in to the HoH room. Twelve Houseguests gathered upstairs to discuss what happened today with Audrey. Shelli runs through how she is close to Audrey on a personal level, but things got messy on a game level. They run the laps of story telling and Shelli ends with wanting everyone to agree that will vote Audrey out if she is the renom. All agree.
The HoH committee meeting lasts for over a half hour as everyone shares how they too were betrayed and hurt by Audrey. Okay, I exaggerate a little. By the end it's been expressed that no one should be mean to Audrey or ostracize her. They agree that they like her but as for her game, she's done.
So everyone is on board and Audrey is headed out the door. Will anyone believe her about the alliance that betrayed her or ignore her help and let the remaining five again become six when Julia enters the house after next week's eviction?