After a few crazy days of Big Brother we had a nice, relaxed Fourth of July with little game talk mixed in along the way. Looks like everyone was ready for a little rest from the rush. Phew!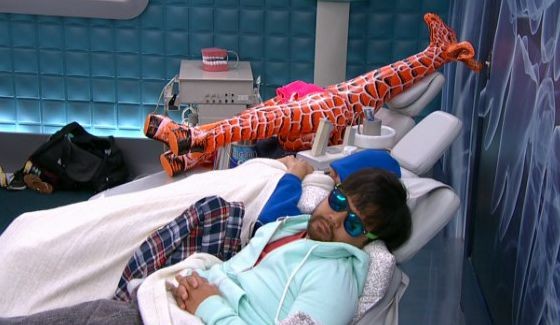 By the end of the night we had yet another alliance form, but how many hours will that one last? Meanwhile the late night crew (2.0) stayed up past sunrise talking about targets and next best moves.
Big Brother 17 Live Feed Highlights – Saturday, July 4, 2015:
9:30 AM BBT – Houseguests starting to get up for the day.

10:15 AM BBT – John tells Steve that he did not throw the Battle of the Block.

11:30 AM BBT – Quiet morning so far as John and Jason chat in the backyard. Houseguests milling around.

1:00 PM BBT – Jason warns Meg that Audrey isn't going up even though that's what she is hoping to see happen.

2:00 PM BBT – Big Brother calls an indoor lockdown. 4th of July festivities on the CBS lot.

3:10 PM BBT – Austin working on Shelli to get Meg up on the Block instead of Liz. Shelli comes around to the idea.

5:25 PM BBT – Ladies discussing plastic surgery, if you're wondering who has had what done & what sizes…

6:30 PM BBT – HGs hanging around having a makeshift 4th of July party in HoH room.

8:55 PM BBT – Jeff and Clay discuss their F2 deal.

9:30 PM BBT – Shelli joins Jeff and Clay. Jackie and John soon join them as well.

10:00 PM BBT – New alliance forming between John, Jackie, Jeff, Shelli, and Clay. They're working on an alliance name. John wants to add Meg and Becky while Shelli doesn't trust James enough to bring him in.

10:20 PM BBT – Backyard is finally open again. HGs start heading outside.

11:00 PM BBT – Shelli and Audrey discussing getting Da'Vonne out and how she's going to handle it the rest of this week. They start running through more game talk. They like Vanessa and Austin. Audrey thinks Jason will be a free agent once Da'Vonne is gone.

1:00 AM BBT – Houseguests doing a "Sexual Healing" talk show in the backyard. HGs taking turns calling in to talk.

5:30 AM BBT – Jason, James, Meg, and Jeff hanging out in backyard talking targets and strategy. They say it's easier/safer to talk game this late at night without having to hide things. "After Dark Crew" (ADC) is formed and kinda, sorta an alliance.

5:45 AM BBT – Jason says their ideal targets for next evictions are Audrey, Austin, Steve, and Vanessa. They want to split up the Austin and Vanessa targets between them.
Listening to this 5AM crew it sounds like they're well prepared for Da'Vonne to go this week and have moved on to planning for the rounds ahead. We'll have to see what this Last Laugh twist does to impact the upcoming eviction.
You can watch all of these Big Brother events using the archives Flashback, the DVR-like feature of this year's Live Feeds which means it's always live, even when you missed it! Sign-up now to get the free trial to watch it all live & uncensored.
click images to see full-size