We only just officially met the Big Brother 17 secret Twin Twist, but they're already in danger thanks to a turn of events in a whirlwind Friday filled with nominations, Battle of the Block, and even the Veto competition.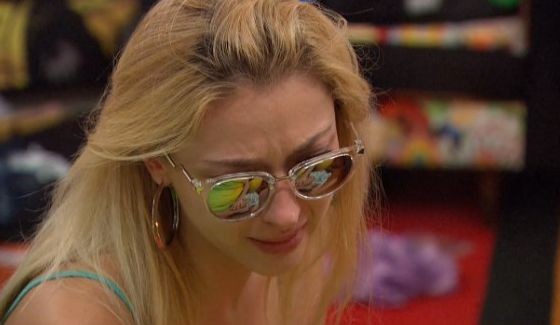 Now in the fallout from the results, check our spoilers for details, the remaining Head of Household must seek out a new plan as she hopes to keep control and evict her target from Big Brother 17.
With Becky Burgess banished from the HoH suite her target of Audrey Middleton is falling to the wayside as Shelli Poole, the surviving Head of Household, is looking for options to insure her target, Da'Vonne Rogers, is sent packing. Of course no one wants to be the pawn to make that happen.
Thinking she had just a short time before the Veto Ceremony last night we watched as Shelli quickly pulled Houseguests in to her room and looked for a way to keep Da'Vonne in danger. Her first plan was to get John McGuire to not use the Veto he just won. Not a bad plan… if he wasn't on the Block! Next option: Meg Maley as a renom, since Shelli won't put up Jackie, Becky, James, blah, blah, blah.
Meg wasn't having anything to do with that and shifted Shelli to consider Liz, earning the approval of Clay and John. After breaking the news to Liz, who took it surprisingly well at the time, things later broke down for her.
Crying to Becky, Liz feared she didn't have the votes to stay and while she couldn't say it to HGs, we can't help but think the pressure of playing for two is weighing heavily in her concerns. But does she need to be that worried?
As far as the Houseguests know there are going to be twelve votes but this Last Laugh twist from Kathy Griffin is going to knock out three of those putting us down to nine. Five votes is all it takes to evict, a much easier goal to achieve especially for a group looking to go against the evict-Da'Vonne plan.
Liz is closely aligned with Austin and also has a shaky alliance with Shelli, Clay, and Audrey. Apparently it's really shaky if Shelli is willing to send her to the block, but she should still have those three votes.
Becky and Jackie agreed that if Shelli wants Da'Vonne gone this week then they'll support her in that mission, so tack on another two votes getting us up to five. Another three votes and they can overcome the Last Laugh twist. That shouldn't be tough.
We don't know how the twist will play out and who can say what to rally support. If someone could say, "hey I basically have an extra three votes," then Houseguests might not be so afraid to "go against the House." Since we haven't seen a single phone call and CBS hasn't released detailed rules it's hard to see how this could impact vote plans.
Production can't control the votes, but we've heard they sometimes apply a little pressure to influence in the DR, so should Liz and Julia's Twin Twist really hit the danger zone then maybe a little nudging could keep their new toy rolling.
Personally, I think we'll get a lot more mileage out of Da'Vonne staying in the game than Liz who is doing her best to keep her head down and be a non-factor so she and her sister can reach Week 6. I'm worried for our Feeds, but Liz/Julia fans can probably not stress too much. Well, not yet at least.
Update: Now after much debate Shelli is leaning back to the Meg renom option. I was surprised she ever left this idea, but Meg smooth talked her way out of it. Looks like Meg will need to do it again if she doesn't want to be on the block against Day.