The line was blurred between Friday and the crazy night before it thanks to Big Brother 17 Houseguest who never want to go to sleep! These crazies were up into the morning as their adrenaline pumped from nominations and Battle of the Block, but more was yet to come.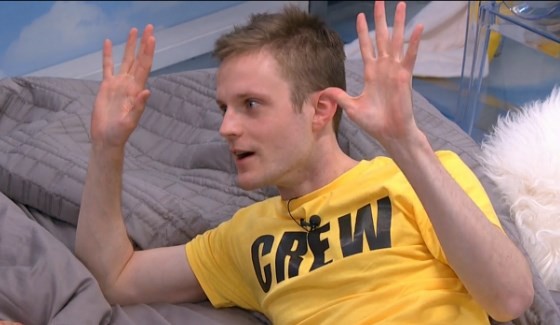 Jumping ahead of the usual schedule we got Friday's usual events overnight and Saturday's Power of Veto comp moved up a day early. That leaves us with a lot of time to kill before Thursday's eviction, but I think these HGs have proven their ability to crack under time and pressure.
Big Brother 17 Live Feed Highlights – Friday, July 3, 2015:
7:00 AM BBT – Shelli and Clay are still up having some pillow talk. She worries her pawn, John, could get evicted instead of Da'Vonne, but Clay doesn't see how that could happen. Shelli promises she'll never be the one to get Audrey evicted.
7:10 AM BBT – Da'Vonne crying along in the bathroom. She tells herself, "get your life" and tries to pull herself together.

7:30 AM BBT – Jason says he'd never bring Steve to F2 since he's too likable.

7:35 AM BBT – Meg and Jeff have a long talk in Storage over the current situation. Jeff wants to split off from Clay and Meg trusts James more. They worry Shelli will draw the line by not targeting Audrey this week.

10:30 AM BBT – HGs got their wake-up call and are slowly, slowly getting up after just a few short hours of rest. Lots of naps ahead of them today.

11:42 AM BBT – Shelli gets annoyed by Clay for telling John they'd use the veto on him. Shelli doesn't want to have to worry about naming a replacement. She even says she'd rather John not use the veto on himself.

12:31 PM BBT – Feeds cut for a bit to pick players for the veto competition.

12:55 PM BBT – Feeds return.

1:08 PM BBT – Da'Vonne asks Shelli when the target transferred from Audrey to herself. Shelli tells her that she didn't fell a trust with Day. Shelli says that she feels like Day would've put her up if she was HOH.

1:15 PM BBT – Day asks James if he knew she was the target. He says no. She mentions the house is very split and her only hope is to win the veto.

1:42 PM BBT – Da and Jeff are talking now. He tells her that if John comes off the block and they put Audrey up, Day has nothing to worry about. Day says she doesn't think Shelli will do that. She thinks she'll put up someone like Becky or Jackie.

2:13 PM BBT – Feeds cut. Veto time.

3:55 PM BBT – Feeds back. John won the veto.

3:59 PM BBT – Shelli lets Becky know that Audrey won't be targeted this week. She tells Becky that it's better for her game if Da'Vonne goes and that Audrey can go the following week.

4:07 PM BBT – Shelli and Clay are talking to John and Vanessa about what is going to go down. Shelli actually has the nerve to ask John to consider not using the veto on himself just so she doesn't have to make a replacement nominee. John, of course, says no because it will look too obvious that they're working together. Shelli and Clay seem annoyed but tell John they understand. They start talking about who they can nominate in John's place. Clay volunteers, but Shelli says absolutely not. It's sounding like Liz will be the replacement.

4:36 PM BBT – John tells Vanessa and Austin that there's no way he's not using the veto on himself. He says he has no idea what this week's twist will do and he's not risking. Vanessa says she wouldn't do it either.

4:42 PM BBT – HGs are playing with a blow-up giraffe snagged from the veto competition.

4:57 PM BBT – Shelli tells Liz and Austin that she probably has to name Liz as the replacement nominee. Liz isn't super happy but says she'll take one for the team.

5:13 PM BBT – Liz is upset talking to Becky about going up as a pawn. Becky is still confused as to why Audrey isn't going up. Liz is afraid she's going to go home week 2 and that's not OK, she says. Becky tells her she's pretty sure that Da'Vonne is the target and that they have the numbers to keep Liz safe.

5:40 PM BBT – Meg and James are annoyed by Clay acting like he's HOH. They say that it's pretty clear Shelli and Clay are together now

6:20 PM BBT – House has gotten pretty quiet. People are resting or doing house chores. Some HGs are deciding to take a nap after the exhausting night and day they've had.

6:45 PM BBT – And the entire house is basically asleep.

8:15 PM BBT – HGs are starting to wake up now.

8:40 PM BBT – Jason and James wonder who Shelli will put up. Jason thinks it will be Audrey.

8:50 PM BBT – Liz tells Austin she doesn't like the idea of being up against Day. She feels like she's going to get backdoored. Austin assures her that is not the case and that Da'Vonne is the target. He goes over the votes they have to keep her.

9:30 PM BBT – Nothing is going on.

10:46 PM BBT – Back yard is open, but the HGs aren't aware yet. Cameras keep showing that it's open.

11:07 PM BBT – Steve tells Shelli he will vote out Day for her.

11:15 PM BBT – HGs have finally realized the back yard is open so they're outside enjoying the night.

12:45 AM BBT – Clay worried about winning HoH next week and having the pressure to send home Audrey. He wants to let Audrey know they are saving her this week despite the pressure to evict.

1:15 AM BBT – Becky and Jackie discuss Shelli's shift to target Da'Vonne instead of Audrey. Jeff thinks it's a bad idea, but Jackie is confident Audrey will remain the target next week.
It sounds like unless the twist can work in her favor, Da'Vonne's days in the Big Brother 17 house are numbered. Her being on the block should result in some exciting Live Feeds, however as we get closer to the next eviction. So stay tuned for that.
You can watch all of these Big Brother events using the archives Flashback, the DVR-like feature of this year's Live Feeds which means it's always live, even when you missed it! Sign-up now to get the free trial to watch it all live & uncensored.
click images to see full-size