CBS has released the official details on the Big Brother 17 Live Feeds as part of their new All Access video subscription revealing how Big Brother fans can get inside the game and BB17 house.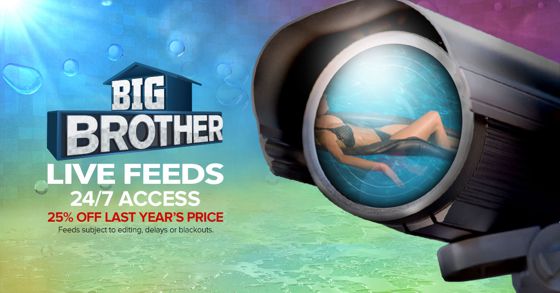 With the shift this season to include the Live Feeds free with fans' subscription to the CBS All Access service we already knew the monthly price was going to be significantly cheaper this time around at just $5.99 per month, but we were still waiting on details of any Early Bird discounts or deals.
Starting today, May 28, 2015 fans can watch exclusive Big Brother preseason video content when they sign up for "All Access," the new home for Live Feeds. In fact, it's the only way to get access to the Feeds this year. CBS has bundled our beloved Feeds with their other existing video service.
A Big Brother Early Bird sale is not available this year since CBS already dropped the price down to $5.99/month, but there is a 1-week Free Trial that you can get now to start watching the preseason content they're releasing. There will also be more preseason content before the Feeds go live during premiere week giving us our first look inside the BB17 house as the game plays out.


Try 1 Week Free! Only $5.99 per month thereafter. Sign-up now.
Please remember that signing up through our links or banners helps support us and gives us financial compensation from CBS but costs you nothing at all. I really appreciate your help with that.
On June 10th Derrick Levasseur, winner of Big Brother last season, will be doing an exclusive chat with subscribers. On June 15th there will be a subscriber-only chat with Frankie Grande. Then later that week CBS is promising a live stream of the new Houseguests for an early reveal.
Big Brother 17 Live Feeds officially launch the in-house cameras on June 25, 2015 after the west coast premiere concludes as part of the two-night event. So BB17 starts on 6/24 but the Feeds won't turn on until after the second episode finishes out west.
click to sign-up now & start watching preseason content
Bad news for our friends to the north. Live Feeds will not be available in Canada due to CBS's decision to include them in with All Access which is only available in the US. Sigh. I asked if there was any hope of changing that like they did the other year, but was told no.
As for ways to watch your BBLF, there is no app and you'll watch via the website on your mobile device or laptop/computer. Roku devices
will be able to access Live Feeds, but Chromecast will not.
I'll keep asking for more details and will share them with you as soon as I can. Be sure to join us on Facebook, Twitter, & by Email so you don't miss any of the updates and other Big Brother 17 preseason news!