John McGuire holds a lot of power today inside the Big Brother 17 house and he's got the other Houseguests scrambling to convince him which side to take during the upcoming eviction. So what is he going to do?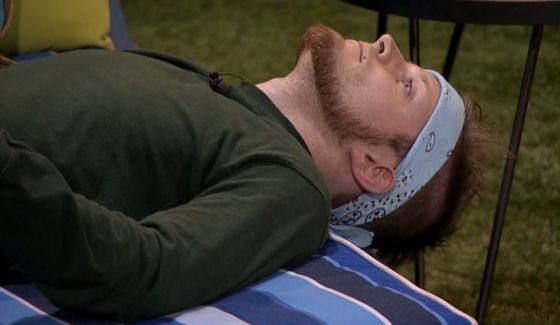 There are only three options: give Austin/Liz what they want, give Steve what he wants, or give Vanessa what she wants. Well, two of those overlap, but which two and has he really set a plan? So far we've heard promises from John to go in both directions, but he's going to have to make a big choice real soon.
We can capture an interesting story arc from Johnny in less than 24 hours starting at 12:46 AM BBT 9/13. Flashback to find John speaking with Austin where he tells him "it's time for me to do bad things."
Remember that there are only two votes leaving Vanessa with the chance of a tiebreaker. Now that Austin and Steve are on the Block, if John votes with Liz then Steve goes and Vanessa's tie-breaker is bypassed. But that'd be kinda crazy to stick with a showmance, or is it just me? John tells Austin that he spoke with Vanessa and she told him he'd be crazy to bring a showmance to F3. Oh, okay, yeah, it's not just me then.
John has promised Austin he'd make the surprising move of voting to keep him and working with Liz as a threesome to get Vanessa out in F4. With Vanessa unable to compete in the next HoH she'd have only the Veto as a means of survival if all sides were sincere.
Earlier in the night John took his turn talking with Vanessa once the Veto results made it clear she'd have to set a renom of either Austin or Liz. Flashback to 10:20 PM BBT 9/12. At this point Vanessa was looking to split up the showmance, or at least that's what she was telling John. Meanwhile John was advocating the opposite and spoke of getting rid of Steve instead.
That conversation set Vanessa off on a mission as she had previously promised Steve he'd be safe and while Vanessa was crazy enough to keep the showmance intact this long I can't help but hope she's truly wanting to split them up since it's no mystery who either Austin or Liz would take to F2 if they won the last HoH comp.
Vanessa spoke with Steve on Sunday morning, Flashback to 8:57 AM BBT 9/13, where she told him he needed to work on John's vote. She didn't explicitly state that John was planning to vote Steve out, but she made it clear Steve should be worried.
Move forward to 3:15 PM BBT that afternoon as Steve and John talk in private. John tells Steve he's been telling Vanessa he is really considering voting Steve out. Steve sounds a little shocked and starts to worry. John explains he's tired of their alleged F2 hanging overhead like an albatross.
Steve starts to ask for details, but John resists sharing what deals he's made with Austin and Liz to vote out Steve. Steve starts to remind John that his "incentives" (which he jokes is Vanessa's obsession) are lacking for keeping Austin since that'd pit John against the showmance and Vanessa. They continue their discussions for awhile and you can tell Steve is nervous.
Jump ahead to 3:28 PM BBT. Steve says he's worried and asks if he really does have John's vote or not. John tells Steve he needs to get Vanessa to convince him to keep Steve. John explains "if I go up and try to convince her, she's going to say we're together again and she's not going to do it anyway." Ah hah!
John promises Steve his vote if he knows it'll make a difference and Steve could stay. Otherwise there's no point in pissing off Austin and Liz and he'll just go ahead and vote Steve out anyway. So it's up to Vanessa and Steve needs her to make this idea her own if he wants to stay. Does it work? Read on for Vanessa's talk later with John. It's a big one.