Overnight Meg and James crafted a new plan to flip the vote and save their Goblins alliance. It's more than a Hail Mary. This one looks more like Mission Impossible, but don't tell them that.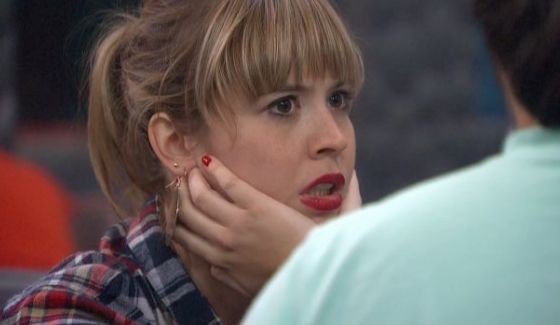 Operation Trojan Horse is about to be launched on Tuesday as this week's target hopes to turn things around and convince the other Houseguests to take out a brick from the "strong fortress" foundation.
I'm glad to see Meg and James working on a plan instead of her napping away the last few days, but let's not get too excited. At this point I'd even warn against being cautiously optimistic based on the details of their plan and here they are.
Flashback to 4:10 AM BBT 9/1 to find the Goblins going through what they think will work to save Meg. First step is to go to Austin and convince him that he needs to vote out Julia. No, I'm not kidding. But to avoid having Austin take any blame they'll pin the flip vote on Steve.
With Steve taking the fall that also means they won't be trying to bring Steve in on the plan. Instead the third vote would have to come from Johnny Mac. They think John would be easy to flip on this plan and the real challenge for them would be Austin.
James argues that Austin knows he can't keep protecting three people and this would give him an easy out. Now in a vacuum I'd say Austin would like the idea of having Liz to himself without having to worry about Julia riding on Liz's back to the end. Then Austin would have both Liz and Vanessa to himself with Julia out since Vanessa and Julia would be closer than Austin and Julia if Liz were to go later.
Austin isn't going to flip on Vanessa though. If she doesn't approve of this idea then she won't allow it and considering that bond Vanessa has with Julia that just won't happen. Vanessa wants Liz out, not Julia, and she already missed that chance.
Same goes for John that he won't flip against Vanessa and especially not for James and Meg. They burned Becky by keeping Vanessa and John knows they're not reliable, especially not enough to burn his newly minted arrangement with Vanessa. And definitely not a good deal for him to have to get his other ally, Steve, in trouble. This plan by James and Meg would put John at odds with the only two allies he has. Won't happen.
Now I know James is a fan favorite and Meg is well liked too, but they've suffered from a disconnect between how they perceive the game and what's really going on. It's common and understandable, but it's been crushing to their games. This situation is no different.
Jump ahead to 4:49 AM BBT as James explains "the only way this won't work" is if Austin has some sort of final "deals with them and they're working together like deep undercover." Austin has final deals with the twins, with Vanessa, and he's been working closely Steve this whole game. The only other HG left that Austin doesn't have a close alliance to is John.
They're sunk, but I'll give it to them that they're trying and that's important. You never want to walk out of that house without giving it your all to stay so I'm glad they're doing something. This just isn't going to work though. I still expect Meg to be voted out 4-1 on Thursday.