We're now on Day 3 of Audrey Watch as the Big Brother 17 Houseguest continues to pull back from the game and rest of house keeping herself in seclusion ahead of Thursday's eviction.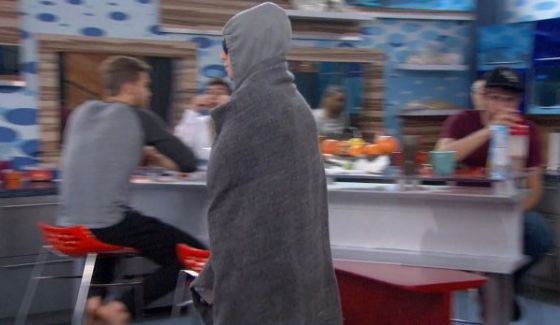 At this point the Big Brother house has moved on past Audrey Middleton and while the Houseguests have been checking on her well being periodically most of them are now over the situation.
Background info: If you're just getting caught up on what's going on. Here are the details you'll need. On Sunday, Audrey began arguing with Clay, Shelli, and Vanessa. It soon became apparent that they were going to Backdoor her. She worked on a House Flip with James, but when that failed she went in to seclusion and spent roughly eight hours in the DR from Sunday to Monday. This even delayed the PoV meeting by about five hours. Okay, now for the latest.
Yesterday morning we saw James bring Audrey room service with an omelette and OJ, his good deed of the day, he said. This came shortly after Audrey had briefly left her station, Flashback to 10:08AM BBT, in the Have-Not room to get a fresh battery and spend a few minutes in the DR. Along the way Liz tried saying hello, but says she was ignored.
Things were quiet on the Audrey front for most of the rest of the day until the HoH camera arrived and Have-Nots decided it was time to turn the lights on and get some group pictures. Audrey wasn't budging from under her blanket tent so they went on without her. Shelli even tried talking to her to get her out but she was ignored as well.
The Houseguests seem to have accepted that she won't be active in the game anymore and is simply filling a seat, well when she shows up, until the round is over on Thursday. But just like us, they don't have much information on the situation and are trying to guess at what's happening.
Steve and Liz, Flashback to 2:05PM BBT, wonder if Audrey will be forced to move during lockdowns or Thursday's house cleaning when they have to go up to the HoH room. Steve mentions that Audrey was not penalized for eating regular food and was given permission by Big Brother. Later Becky mentions Audrey had a 24-36 hour window of being allowed to eat regular food.