There is just one vote to cast tonight on Big Brother 17 when the Final Four Houseguests gather in the living room and await the word from host Julie Chen. So what will it be? We've got our prediction ready to go.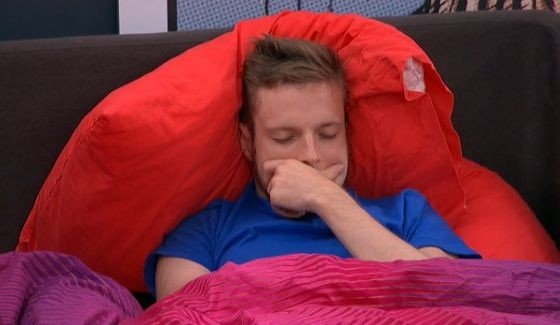 During Tuesday's special eviction show we saw Steve win HoH and secure himself a spot in the F3. He has best case and worst case scenarios for who he'd want to join him, but this might not be his night to celebrate.
Vanessa won the Power of Veto. How did she beat the season's walking library of knowledge? Oh Steve threw the competition to her. Let that sink in.
Yes, once again Vanessa said "jump" and the Houseguests cried, "please don't hurt me!" Now Vanessa will cast the one and only vote against either John or Liz. Can you see where this is going?
Vanessa finally has an Austwin all to herself. She's not letting that one get away and she's sure not letting John and Steve stay together in a F3. By voting out John tonight Vanessa will find herself yet again in the middle of the pack and likely believes either player will take her over the other.
Flashback to 10:08PM BBT 9/15 to hear Steve and Vanessa have a lengthy talk about the decision ahead of her. Steve says he expects John and Liz have come to her with F2 deals to entice her decision to keep one over the other. Vanessa says they haven't talked to her as much as he might expect while adding that she hasn't made up her mind.
Vanessa asks Steve what he thinks, but he knows better than to answer that. See Steve wants John to stay as he explained in his tear filled camtalk last night. Steve believes John would take him and he'd take John to F2, but that opportunity is gone.
Vanessa explains her view that John will be harder for her and Steve to beat in the first two rounds of the HoH competition, which starts tonight at 8/7c by the way. She toys with the idea that maybe they could convince John to throw the final HoH comps to them and then he'd be an easy defeat in F2 as compared to Liz who starts with 2 votes in her column. I think she's just trying to look balanced.
When asked if he thinks she should take Liz, Steve tells Vanessa he doesn't know, but says it'd make sure they took each other. Both are afraid of Liz's advantage of dedicated votes from Julia and Austin.
Since John doesn't have that advantage but is still Vanessa's apparent preference to go then she must be more concerned about John and Steve banding together in F3. Well, she should be, but Steve should also jump on that saying they can't risk bringing Liz within reach of F2 in case something goes wrong with their plan to get there together. Won't matter. Vanessa won't keep John.
Tonight during the live eviction show I fully expect Vanessa to cast her one vote against John McGuire and send him to the Jury. Again. From there Liz, Steve, and Vanessa will set out in to the backyard for the first round of the final HoH competition which should be a huge endurance battle.
Think Vanessa has other plans? Would she keep John over Liz or is voting out John her strategy? Share your thoughts below and vote in our poll: