It was an emotional night for Big Brother 17 Houseguest Steve Moses who had secured a spot in the F3 but became upset in a late night camtalk session revealing what he believes was a $500,000 mistake in his strategy.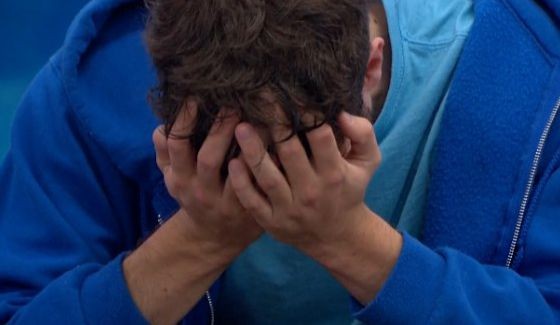 When Feeds returned last night we discovered who won the Veto setting us up for the next eviction and the season's F3 ring of Houseguests. What we didn't learn until later is that Steve might have made a surprising decision that could cost him the game.
Flashback to 12:10 AM BBT 9/16 as Steve, alone in the HoH room, starts camtalking before suddenly breaking out with crying:
"Vanessa, I can't beat you in the F2!" He starts to sob, "Why did I throw it? I just lost the game. I could have won the game today. Anyone but Vanessa. I can't beat her. She's so good. She got me to throw the Veto. I said it this f**king morning. I said it this morning! I could have beat her."
Steve grabs his bear and cries in to it, "I'm sorry, Mom. I'm so sorry. I made a mistake. I just cost you so much. I'm sorry." He collapses on to the bed and continues to cry that he can't beat Vanessa.
"I shouldn't have thrown it. I shouldn't have thrown it. Why did I throw it?" asks Steve. "I could have taken me and Johnny and Liz. And Johnny and I could have won. Johnny would have taken me and I would have taken Johnny because Johnny would have been nervous about Austin and the twins. I could have taken this game home. Oh my God. Why did I pass that up?"
Steve gets up and is walking around to get a tissue before returning to bed. He says he doesn't have the resume to beat Vanessa, but his big move could have been to send Vanessa home. "I could have killed this game! And I didn't. I could have won Big Brother today." Collapsing back in to his bear Steve begins crying again with more apologies to his mom.
"I don't want this," continues Steve. "I want to send Vanessa home. I said it this morning. I f**king chickened out."
Steve does a quick Jury vote count. "Next to Johnny I would have had 4 Scamper Squad votes then Meg and James." Whether or not that count is accurate, it would have been enough to win. He says there's no chance James, Meg, Shelli, Becky, and Jackie would have all voted for John over him. "There's no way. Having zero HoHs? Oh my God, I would have won this game. I would have won this game. I would have won this game."
"I could have won and now I can't. And now here I am, this pathetic little s**t crying in my HoH room," says Steve as he starts to wind down on the tears.
Steve paces the room before returning to the topic of throwing the Veto. "It was so close. It wasn't like if I screwed it up and didn't win on my own merit… and I lost because I wasn't good enough."
If Steve did in fact throw this Veto competition as he claims then that was a terrible, terrible choice. Terrible. Steve most likely can not beat Vanessa in the end. I don't think any of them could beat her, but maybe there'd be a surprise with the other two. Allowing Vanessa to stay in the game was likely a losing decision for Steve and there's no room for sympathy when someone has done it to themselves.
We'll have to watch the show tonight and see how the Veto went down to learn more about Steve's claims that he was willing to throw it. Was he truly convinced by Vanessa or did he come to that conclusion on his own and go along with her request? I'd expect to find out she had worked on him for this to happen, but we'll have to wait and see.
What do you think of Steve's situation? If he did throw it to Vanessa was it at least a $450,000 error? Share your thoughts below.