We've passed the final night of Audrey Middleton on Big Brother 17 as she's all but been evicted at this point from the game. After days of hunkering down in the Have-Not room Audrey emerged for one last round as a fun Houseguest.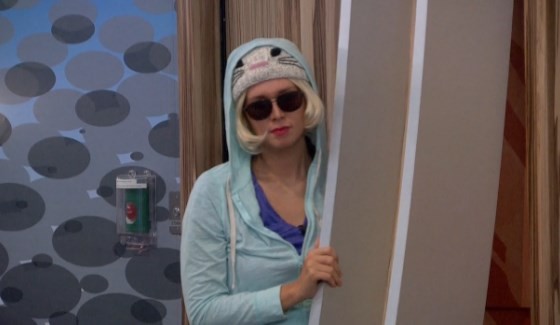 Audrey's antics polarized Houseguests to either stand against her or with her as a lightning rod to protect themselves, but she was never ever dull, well not until the past few days, and that's the Audrey I'd rather have her go out as.
Flashback to 9:40 PM BBT to find Audrey emerging from the Storage Room announcing "who is ready for a takeover!" She has the blonde wig on and is carrying the placard from storage as part of her costume to make it look official.
"Sister!" Audrey says to Julia who gets up and runs over. "I'm the other twin." Of course everyone knows about the twin and Audrey was the last to be included in discussions, but it did seem like she was perhaps making a subtle jab at exposing it just in case others weren't sure.
click images to see full-size views
Across the room you have Shelli squeal-yelling "Oh my gosh! What's happening?! This is soooooo exciting!" Okay, settle down, Shelli. It's just Audrey goofing around. The Houseguests are happy to see her back outside the HN room and even more so to hear her talking after 3 days or self-imposed reclusion.
After goofing around with Julia and pretending the SR card says something everyone laughs and goes back to their regular conversations. Audrey then hangs around but hides behind the partial wall watching the other HGs before wandering back to the HN room. Well, it's better than nothing and at least she got to have a little fun.
If you want even more Audrey goofing around then rewind 9:20PM BBT Cams 3/4 as Audrey jumps up from her dentist chair and starts to sing and dance their Big Brother musical. Seriously.