The guys have been running the Big Brother 16 house this season with several of the ladies helping them along. Now things have narrowed down to the final seven with the final five right around the corner. Can the guys keep it together to final four or will they turn on each other before that?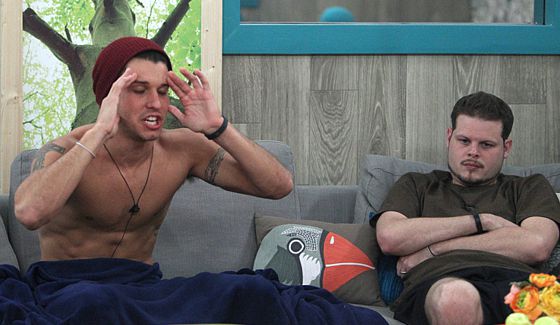 The Bomb Squad started out with eight before being whittled down to the Detonators and their five members. Soon that alliance too fell away with Zach's departure, the guys distrust of Christine, and the re-inclusion of Caleb. Despite their ups and downs it looked like Caleb, Cody, Derrick, and Frankie may be able to stick it out to the end. But do the guys all want that to happen?
Over the weekend the guys F4 deal looked dead in the water. Caleb was in the position to renom Frankie and all it would take would be two votes to set up Caleb for the tie-breaker. While there was promise it didn't work out as Caleb backed down after believing Frankie was solidly with them.
But hang on. Deciding not to Backdoor Frankie is one thing, but telling him how close he came to being evicted is another altogether. Yesterday before the Veto meeting Caleb had a heart-to-heart with Frankie where he told him he considered all the possibilities including putting him up. Caleb told Frankie not to be worried, that he wasn't doing it, but then he stepped him through how easy it would have been and how he had the votes to evict him. Ugh, Caleb.
Sure enough, after the Veto meeting Frankie and Derrick spoke about the near-miss. Derrick asked Frankie if he felt in danger and Frankie told him yes, because Caleb practically told him so.
Later that evening Derrick spoke with Cody to let him know Caleb was spilling the beans around the house. Flashback to 6:45PM BBT. Cody can't believe Caleb would do that and he is not happy at all about it. Cody tells Derrick that he'd go after Caleb before Christine because of the way Caleb is playing. Of course Cody writes checks all day with his mouth and has never cashed a single one.
Cody proposes he would nominate Frankie and Victoria in the midst of a Double Eviction and push for Frankie to be evicted if he doesn't win the Veto. Derrick says he'd put up Christine but use Frankie as a renom if it comes to that.
It's hard to tell who Derrick is being honest with as he's successfully deceiving most everyone inside the house and tries his best to mislead viewers in his Diary Room sessions. I do still believe he wants to move forward with Cody and Victoria the most of anyone in there, but we'll have to wait and see.
As for Frankie and Caleb and how they relate to Derrick's big plans, eh, I'm not so sure. Later last night in a talk with Frankie Derrick denied telling Cody that Caleb spilled the beans so clearly Derrick is telling Cody more than he wants Frankie to know and that should tell us a lot.
When the Double Eviction hits on Thursday the guys will regret not taking out Frankie when they would have had the chance to get Nicole out in the same night. Then again they may still get the chance with Frankie going out the door if everyone is feeling nervous about him.
Considering Frankie's realization that he was in serious danger he may do something drastic on Thursday given the chance and I wouldn't blame him. Caleb did a very, very foolish thing in telling Frankie his backdoor plans if Caleb still wanted to go to F3 with Derrick and Cody as he had repeatedly said. Maybe Caleb will still pull it off, but I'm not so sure.
So who would keep the F4 together? Other than Caleb I don't think any of them would and that's only because Caleb already did just that! Derrick and Cody are finally ready to get rid of Frankie, but that happened a week too late. Frankie can't possibly want to risk sticking it out with the guys anymore at this point either.
F3 is even bigger of a mess. Caleb wants Frankie out at that point and we know Derrick has been setting things up for keeping Victoria around at least that stage. Whatever happens should at least be interesting as they all think they're in control, but only one of them will get to pull the trigger.
Do you think the guys will turn on one another or stick it out until the F4? Their competition to make that happen is just Christine and Victoria which means if something gives then it might be a tear from inside their alliance.