The Power of Veto Ceremony is coming up later today on the Big Brother Feed and after days of waffling the Hitmen have a plan. Well, Derrick has a plan and Cody is going to follow right along.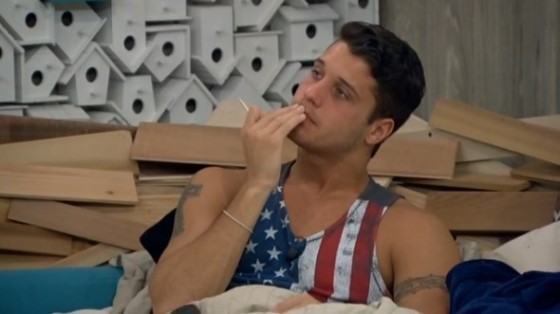 Jump to 3:00 AM BBT Cams 3/4 last night on your Live Feeds using Flashback. Get the Free Trial now to watch it using the rewind feature. Derrick and Cody are discussing their next steps and how to handle the Veto meeting with Donny and Nicole as the current nominees.
Cody tells Derrick that in a perfect world he would renom Frankie and send him home. Okay, so why not, Cody? Why not do it right now? Because Cody doesn't have the guts to do what he wants as we've seen week after week. Unless Derrick gives him the go-ahead then he will not do it.
It was just this past Friday when Cody told Derrick he wanted to go after Frankie but Derrick told him that while he could, it's not something he should do. That was that. No contesting it or arguing. Cody just rolled over.
Keep in mind that this latest discussion takes place in the context of Cody having just heard the fan yelling that Frankie was the Saboteur and neither Frankie nor Christine were to be trusted. All these flags are flying up around Cody, but he's got his Derrick-blinders on.
This time around Derrick convinces Cody to not go after Frankie by asking him if he's more comfortable with Frankie and Christine in the house or Nicole and Donny together in the house. Cody says he thinks the rest of the alliance would go after Nicole to "appease the alliance" and only if that fails would Frankie and Christine come after Cody and Derrick.
So Cody shows he's thinking there's a risk and even says if both he and Derrick are on the block then he (Cody) would be the one to go. Yet he's not worried enough to go after Frankie now.
Derrick tells Cody that they need to get Donny, then Nicole, then Christine, and then Frankie. That would leave a F4 of Derrick, Cody, Caleb, and Victoria. Cody agrees to Derrick's plan. Good for Derrick.
The guys think they can at-will evict Frankie at F5 because they don't want him in the F4. Hey guys, what if Frankie wins HoH that week? What if he wins Veto that week? There are so many possibilities that they're being too cocky and confident in their game to consider.
My guess is that Derrick isn't worried about the plan failing and Frankie staying because he's got the Team America bond that he thinks would keep him safe over Cody. He's probably right. This is a fair plan for Derrick and a risky one for Cody.
Alternatively this may be a BB-hit that Derrick wants for himself and not Cody. Could Derrick be pushing Frankie's deadline out to the end of the list so he has more chances to win HoH and blindside Frankie with an eviction? It's certainly a feather I'd want in my cap when I stood in front of the Jury.
The guys agree that Cody will not use the Veto today. Donny and Nicole will remain on the block and Donny will be evicted this week. Frankie dodges another eviction plot.