The Big Brother 16 house ramped up last night for the Double Eviction show and things never slowed down for the Houseguests. The new HoHs had one set of plans, but things are shifting quickly.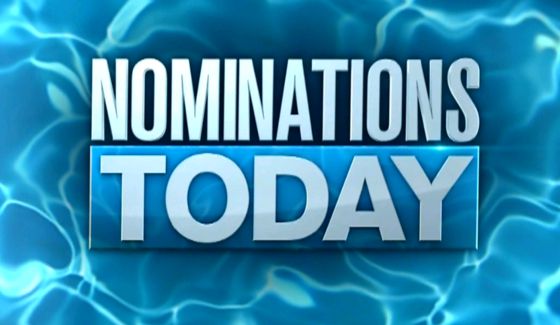 If you missed the HoH spoilers get caught up on that first. Now that you know who is in power this week, let's move on to their targets. These have changed a lot as the night rolled on.
Flashback on your Live Feeds to 11:42PM BBT 8/7 to find Nicole and Christine in the Hive. Don't have the Feeds? Get the Free Trial now! They get a solid thirty seconds before Frankie rushes in to the room as he often does when HGs try to talk game without him.
Once Frankie finishes pleading his case he leaves and the ladies get back to the topic of their nominations. Nicole has brought up a promise that she will not renom Christine if she promises the same to her. They agree to not do that to each other.
After much discussion they settle on Nicole nominating Caleb and Victoria while Christine is going for Donny and Zach. Cody is floated as Christine's renom option.
Later in the night Team America received their latest mission to get a pawn on the block and evicted. Derrick took charge and went to Nicole throwing Zach under the bus as the "biggest snake in the house" and pushed to get him on the block. Derrick suggests she puts up Frankie and Zach. That falls apart thanks to Caleb.
Caleb comes up to meet with Nicole & Derrick. Nicole admits to Caleb that Frankie had her lie to him about the Amber situation. That was the last straw for Caleb. Here comes the plan change.
Caleb says to put him up on the block with Frankie. He promises to throw the BotB competition to make sure Frankie stays on the block. Caleb says he will sit down when the comp starts and tell Frankie he did this to himself. Wow!
Earlier the guys learned that Frankie had gone to Nicole & Christine with the suggestion that Cody, Derrick, Zach, and Caleb go up on the block. Everyone is upset at Frankie and it looks ready to come back and get him.
So now Nicole plans to nominate Caleb and Frankie instead of Caleb and Victoria. Christine appears to be maintaining her Donny and Zach plans.
If things go to plan (HAH!) then Donny and Zach should come down off the block later on Friday and Frankie will be the main target. Should Frankie escape via Veto, then Nicole has agreed to renom Christine, going back on her promise not to do so. What do you think of all this?
Update: Yep, things look bad for Frankie:
Cody & Derrick agree: The plan this week, evict Frankie. #BB16 pic.twitter.com/kmbRIBGeh7

— Big Brother Network (@bigbrothernet) August 8, 2014