There's a new Head of Household in the Big Brother 16 house after last night's Rewind twist hit and the stress is mounting as the F5 HGs prepare for the next round of nominations.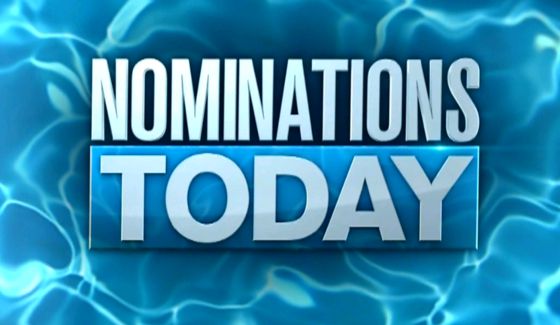 As soon as the Live Feeds returned following the comp we could see the HGs were wasting no time at all getting in the ear of the new HoH. Would this finally be the week that ended Frankie Grande's run in the game? Decisions will need to be made.
Flashback to 7:10 PM BBT 9/10 as Derrick and Caleb begin the discussion of whether or not to target Frankie from the very start. Derrick wants him to go for it but Caleb is clearly hesitant and worried about how it could impact his game should Frankie win the Veto.
Following this conversation Cody and Derrick speak privately (7:45PM BBT). Their concern is that Frankie is trying to straddle both their F3 deal and a F2 with Frankie. If Caleb really trusted the guys, they suggest, then he wouldn't hesitate to out their intentions to target Frankie. Of course it's easy for them to say that than for Caleb to do it.
When Frankie goes in to the DR the guys have a group talk. Jump to 8:45PM BBT 9/10 to watch. (Get the Free Trial now & see it for yourself.) Derrick drops the logic-bomb on Caleb. He says for Caleb to do what's best for his game but he goes by the math and the math here says that if Frankie does not go up then they could be forced in to voting out either Derrick or Cody.
Derrick points out that if Frankie is not on the block and wins the Veto then he could decide to use it on Victoria and force a renom of Derrick or Cody, whichever of them is not up. Now the theory is sound, but considering we saw Frankie pass up this opportunity last week I do not think it's likely. All the same, I do think it's starting to work on Caleb.
The talk breaks with Caleb agreeing to put up Frankie and Victoria. They plan to stage a discussion with Frankie later on and each give reasons why they (Derrick and Cody) shouldn't be the ones to go up. Cody's argument is that he was just up. Derrick's argument is that he couldn't defend himself yet again in the HoH comp.
All the guys get together later around 3:40 AM BBT to go over the plan. Caleb is suggesting he'll put up Frankie and seems ready to go with the plan. After Frankie and Cody leave the room Caleb assures Derrick that yes, he's prepared to nominate Frankie.
Frankie comes back to have a private talk with Caleb. He makes a lot of valid points about never putting Caleb up and how they've had a F2 deal since the start. Caleb promises Frankie the target remains Victoria and the other guys are loyal to them making F4.
Considering Caleb continues to push the storyline of Victoria being the target to Frankie even in private makes me think he's serious about doing it this time. Frankie and Victoria look to be this week's nominees.
As for when the Nominations Ceremony will take place, I'm not sure. The noms episode will still be on Sunday as normal which makes me think they could keep the ceremony on Friday instead of the day after the HoH comp. I'm hoping for the momentum to keep rolling though and we'll see the nominations officially confirmed later tonight. Either way I'll be watching and keep you updated as soon as it happens.
What do you think of the plan to nominate Frankie in the first round? Would you wait until Veto played out or put your plans out in front?