The Power of Veto competition is arriving soon on the Big Brother Live Feed and, just like last week, with one main target the results will be critical in project the week's outcome.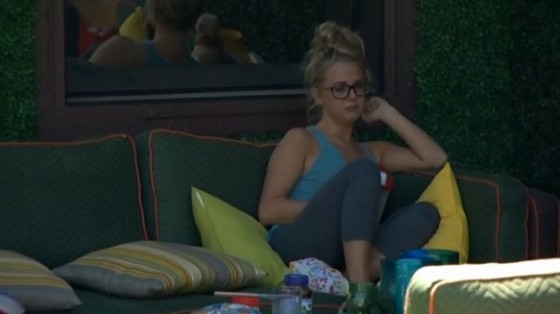 Nicole knows she's in the hot seat. She tried to strike a deal with Caleb but when the Have-Not assignments arrived and he went back on his word Nicole knew she was on her own. Now with just the Veto between her and eviction she's ready to fight for her survival.
But is a Nicole Veto-win the only option for her to dodge eviction? Let's take a look at what all could come out of today's competition from Nicole's perspective as she is this week's big target.
There are seven HGs left and six of them will compete, or at least six will be selected to compete. Caleb seriously stressed and injured his knee during the HoH competition to the point that he's repeatedly said if it's a physical comp he will not participate.
Of course last week's standing still stay/fold comp wouldn't have been an issue, but will they get another one of those today? If it is physical and Caleb doesn't compete then Nicole is down to four competitors as Caleb has a designated seat in the comp as this week's HoH.
Along with Nicole we'll see Christine guaranteed to compete as one of the week's nominees. Christine has an okay comp record and beat out Nicole in the comic book Veto comp by just a nudge to shut down a chance at a Frankie Backdoor way back in Week 6.
Nicole's best hope is to either see Victoria's chip drawn or to get the HG Choice chip. In talks with Victoria last night Nicole seemed to strike a minor alignment with her and there was some talk of watching out for one another. I'm not so sure Victoria would use the Veto on Nicole, but maybe she wouldn't get in Nicole's way to win it. Maybe.
I'd say worst case scenario for Nicole is Frankie getting pulled. Donny may have been the Veto king, but he's gone now and Frankie's comp record is very strong. If Frankie plays and wins then not only would he not use the Veto on Nicole but he wouldn't be eligible for a renom should something drastic take hold later this week. Not that I think it's likely, but this would remove any chance.
That leaves Derrick and Cody as the alternatives who could also end up competing. Cody has pulled off a series of wins recently and won't hold back with so few options for renoms and the fear of ending up as a the replacement should either nom win the Veto and come down.
Derrick has not won a Veto yet this season and honestly he doesn't need to unless he wants to prevent his pawn Victoria from going up on the block as a renom as Caleb has suggested he would do. Derrick wouldn't be renom'd by Caleb and if he's willing to risk a Victoria renom then he'd be wise to keep his head down and let this one play out around him.
The Power of Veto competition will arrive later today on the Live Feeds and we'll see if Nicole can pull off the win. If not, the odds of her returning to the Jury House are high and the game will likely carry on with the core alliance maintaining its control and numbers.
Update: Veto players were picked & Nicole is one lucky lady. Four HGs were up for the three spots and only Frankie was not drawn to play. He was pissed off when the Feeds returned.
Nicole will face off against Christine, Cody, Derrick, Victoria, and, if it's not physical, Caleb. Caleb has said he'd sit out to spare his knee if it looks physical & could get him hurt again. Frankie will host.
With Frankie sitting on the sidelines there's technically a chance that he could be Backdoor'd, but would Caleb be so bold? Maybe, but we'll have to wait and see.