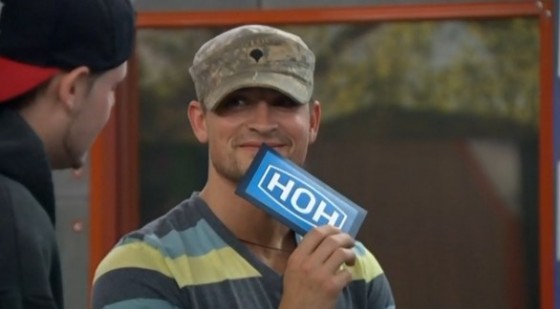 Friday brought a little Big Brother drama as the house majority alliance decided it might be time to mix things up by using its own members, but will that backfire?
By the end of the day the nominations were set and the HGs were preparing for the Veto competition. Find out what else happened on the Big Brother Feeds in the house yesterday.
Big Brother 16 Live Feed Highlights – Friday, August 29, 2014:
11:40 AM BBT – HGs are finally waking up after a long, exhausting competition.

11:45 AM BBT – Caleb, Cody, and Derrick in the backyard discussing what Caleb needs to say to Christine about going up.

12:50 PM BBT – Have-Not food revealed. Snot Roast. Caleb has to pick two HGs. Derrick immediately volunteers since he brought on the "Holla" plague. Caleb takes forever but finally picks Nicole after previously telling Nicole he would not do that to her.

12:55 PM BBT – Nicole is outside crying by herself. She's very upset but says she knows she'll be okay.

1:20 PM BBT – After talking with Christine Nicole is saying she's mad at Frankie who has only been a HN once. Nicole fully expects to go up now.

2:05 PM BBT – Frankie talking with Derrick and says he (Frankie) will punch Nicole in the face if she complains to him.

2:15 PM BBT – Caleb trying to decide what to tell Christine about going up. The guys decide to say they'll use the Veto on her and renom Victoria.

2:45 PM BBT – Caleb again reaffirms his plans to put up Christine with Nicole and use Victoria as the renom if it comes to that.

4:30 PM BBT – Feeds have returned and the Nomination Ceremony is complete. Nicole and Christine were nominated.

5:00 PM BBT – Christine talking to herself. Displeased with the "Bomb Squad" and wants to go after someone from the group instead of Victoria next week.

5:30 PM BBT – Nicole and Victoria talking in the Have-Not room. Nicole thinks Christine is the pawn. Nicole is upset with Frankie. She says she'll pick Victoria as HG's choice if she gets it.

6:00 PM BBT – Victoria says she's not revealing as much info to Derrick as she used to. She goes on to say she still has his back though.

7:00 PM BBT – Derrick talking with Christine and encouraging her to focus on the Veto comp. She thinks she'd pick Cody instead of Frankie if she gets HG's Choice.

9:00 PM BBT – Cody and Caleb are studying game details. Caleb worries about what they'll do when it gets down to the four guys left.

9:25 PM BBT – Christine tells the guys she's concerned that Victoria and Nicole won't make eye contact with her.

9:55 PM BBT – Derrick is talking to the camera. Says he's working hard and has himself in a strong position in the game. Derrick says he couldn't save Donny because of how it would have pitted him against Cody and jeopardized his game.

10:05 PM BBT – Booze delivery plus toys. They got Play-Doh and face paint along with wine.

10:25 PM BBT – Derrick and Caleb talking game. Caleb says he'd keep Derrick over Frankie because he hasn't wronged him. Derrick promises Caleb he'd also keep him over Frankie if they were on the block together.

11:00 PM BBT – The guys are anxious to divide Nicole and Christine so they don't resume working together.

11:30 PM BBT – Christine was called to DR to show off her facepaint so the guys are just talking about random things.

12:00 AM BBT – Caleb suggests Frankie might throw the Veto comp. Frankie points out he's not Caleb and wouldn't do that.

12:45 AM BBT – Frankie talking about how he wishes he were famous like his sister. He wants to either record an album or get his own TV show.

1:45 AM BBT – Derrick is encouraging Nicole as they get ready for sleep in Have-Not room. They're having some bonding time. Derrick could be doing his Jury Management that few other HGs have bothered to do this season.

2:30 AM BBT – HGs are sleeping and resting up for Saturday's Veto comp.
Nicole is in the same spot that Donny held last week. It's do or die in the Veto competition. Well maybe not if she can turn the guys on Christine, but let's take things one step at a time.
Veto comp is coming up on Saturday and once we know who wins that power then we'll be able to start planning out the rest of the week.
You can watch all of these Big Brother 16 events using the archives flashback, the DVR-like feature of this year's Live Feeds which means it's always live, even when you missed it! Sign-up now to get the free trial to watch it all live & uncensored.
click images to see full-size