Here we are again this week of Big Brother having the same discussion from last Monday. The HoH wants to get rid of Frankie but will it happen? The big difference this week is that Derrick is actually pushing to make it happen, but did he wait a week too long?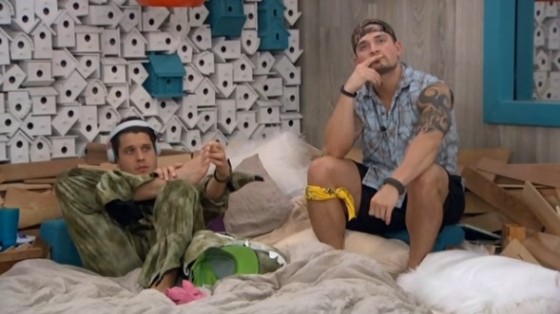 Overnight the push continued from Caleb for support from Derrick and Cody to evict Frankie if he were to be renom'd at Monday's Veto Ceremony. After getting Derrick fully on board and the support of Cody it looked like we had a wild week locked down. But now we've got enough waffles in the HoH room to open an IHOP.
I broke down all the details and timelines last night already over here, but by the time the guys were going to bed we had heard both "okay, let's do it" [BD Frankie] and "let's just send home Nicole."
After wrapping up their hours of debate Derrick had gone back downstairs when he suddenly returned to the HoH room. Flashback to 4:35AM BBT 9/1. Derrick comes in and tells Caleb that Frankie is the bigger threat. We Caleb jokes that Derrick just now figured that out Derrick says he is smarter than him and needs to listen to his strategy. That didn't work.
They continue to debate and finally Cody closes it all with "f**k it, let's send Nicole home." Derrick immediately adds "done!" Now I don't think that means Derrick agreed but rather that he saw this was slipping away from him and didn't want to continue to press until later with a fresh attempt.
Caleb, Cody, and Derrick all agreed to regroup in the morning when the wake-up call music arrives. Most HGs do not get up at this point so they're hopeful they can get some quiet time again to talk between the three of them. Watch for Derrick to renew his push for evicting Frankie at that time.
Caleb is hesitant and worried. He points out that Nicole has never been with them but Frankie has. Even though Frankie has repeatedly betrayed Caleb's trust, Caleb said he hasn't done it again since the last time. Heh. Caleb even thinks he could get "millions of haters" if he BD's Frankie.
Everything is worrying Caleb and if he's this wobbly at the moment then I really doubt he'll go through with it. He needs something to tip him over the edge and I'm not sure he'll find it in time. Derrick will try again if he doesn't decide to just give in and let this go.
Why would Derrick push for it this week but not last week when he could have controlled Cody in to doing it? One possibility is this way Derrick can let Caleb get the evict credit but then he can evict Caleb and inherit the credit while keeping Cody. If Cody had gotten the credit for evicting Frankie then Derrick might be more worried about sitting next to him at the end. Who knows for sure.
This is the one and only, very last, no other at all, chance to Backdoor Frankie. Once this week is gone and the next round of events happens every single player will be involved in the Veto competition. You can no longer Backdoor any player once we move past today's meeting. Will they take advantage of it?
I'll watch for the morning debate between the three of them if they can get Frankie to leave them alone and stay out of the HoH room. Once we know more I'll post more updates. The Veto Ceremony is usually over by noon BBT so it won't be much longer. The clock is ticking.