After a long, long night of debate Caleb Reynolds continued to waver between targeting Frankie or going with the status quo of avoiding big moves this season on Big Brother 16.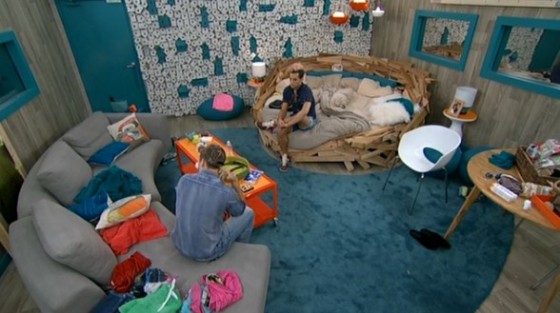 The plan had been for Caleb, Cody, and Derrick to talk about things again in the morning before the Veto Ceremony. That didn't happen.
Derrick slept in until just before the meeting. He completely squandered any opportunity he might have had to work on Caleb. Instead, Frankie took advantage of that very same quiet time to work on Caleb and reassured him they were safe and sound together.
At 10:35AM BBT Caleb went to wake up Derrick, less than an hour before the meeting, and told Derrick he was not going to go after Frankie.
Jump to 10:47AM BBT to find Caleb and Frankie alone in the HoH room. Caleb is telling Frankie way, way too much information and mentions how he talked with the other guys and considered all the possibilities. Yes, that includes sending Frankie home this week.
Frankie must be fully tipped off at this point that they were going to come after him. Caleb tells Frankie today would have been the day to go after Frankie since he was vulnerable and would have gone home. Given the chance in the Double Eviction on Thursday I wouldn't be surprised to see Frankie take a swing just as the guys worried he might.
Derrick joins them at 11:16 AM BBT. Caleb gives him the latest that Victoria is going up and Nicole should be evicted. There will be no surprises at today's Veto meeting.
The Backdoor plan has failed yet again as Frankie moves closer and closer to the end while the last chance to Backdoor him slips away for the rest of the season.