Tonight on Big Brother 16 the season finale reveals the last HoH of the summer and the Jury's reveal of who won Big Brother! Stay tuned as cover it all starting at 9:30PM ET after the Survivor premiere.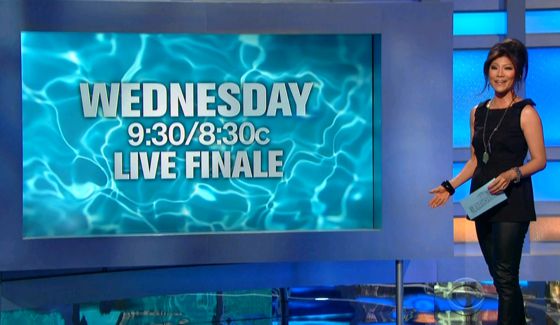 Last week's cliffhanger left us with Cody, Derrick, and Victoria preparing to enter the final Head of Household competition of the season. Endurance was up first with a mental and physical challenge not far behind. Both of those rounds are already over (spoilers) and now we await the third and deciding round held live during tonight's finale.
Not only will we get a series of competitions but the season's Houseguests return! We'll see the first five HGs back together on stage along with the return of the Jury and their roundtable debate hosted by none other than the excellent Dr. Will Kirby.
Can Derrick win over the Jury with his masterful game play and best Cody or could we never find out and one of the guys flips on the Hitmen to take Victoria to the end? We're about to find out!
Big Brother 16 Final HoH – Round 1:
Endurance competition with a hang gliding theme. Victoria is out first which means the Hitmen control this round's win. As soon as Victoria drops the guys start debating what to do.
Derrick says he's worried about beating Victoria in R2. Later this conversation comes up and Cody gets upset as we see in his DR here. Derrick hangs out awhile longer and then… drops.
Cody will now move on to Round 3 while Derrick and Victoria must compete in Round 2.
Big Brother 16 Final HoH – Round 2 – "Ancient BBgypt":
Much like last season, the competitors had to place face plates high on a wall while attached to a harness. First player to get the sequence correct will move on to Round 3.
Derrick completes in 15:29. Victoria finishes in 30:03.
Derrick and Cody will now face off in Round 3 of the Final Head of Household comp. "But first" it's time to hear from the Jury at their Roundtable discussion with Dr. Will.
Big Brother 16 Jury Roundtable:
Nicole is being a champion for Derrick saying Cody hasn't done much. Donny says Derrick betrayed allies (secretly referencing Team America, I'd guess) and Frankie agrees that Derrick used the death of their grandfathers to create a bond. Jocasta says Derrick fake prayed with her so she will not be giving him any "sugar."
Dr. Will asks them to name a big move by Derrick, but no one can come up with anything. Did Derrick play too behind the scenes? The debate continues. Jocasta says she'd vote for Victoria in the F2. Caleb says if Victoria gets there he will too. Hayden points out that would be a personal move.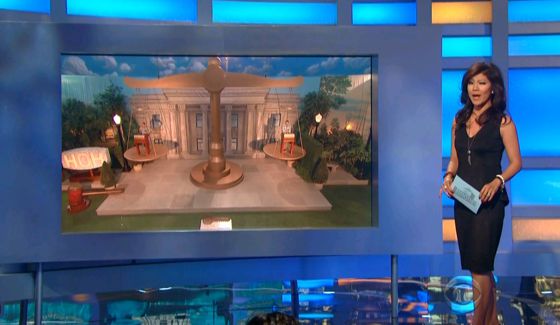 Big Brother 16 Final HoH – Round 3 – "Scales of Just Us":
Round 1 – A – Derrick gets a point
Round 2 – A – Both get a point
Round 3 – A – Both get a point
Round 4 – B – Cody gets a point
Round 5 – B – Derrick gets a point
Round 6 – B – Cody gets a point
Round 7 – B – Neither gets a point
Round 8 – B – Neither gets a point
Tie-breaker – How many seconds was Round 1? Cody wins
Cody is the Final HoH after just barely beating out Derrick with his estimate of 3120 vs Derrick's 3013. The correct was 3671 seconds.
Big Brother 16 – Final Eviction:
Cody is ready to make his decision on who to evict. Will he stick with the Hitmen?
Cody votes to evict… Victoria!
Cody will now face Derrick in the F2 before the Jury Q&A in a moment here.
There are a lot of tough questions from the Jury but things look to be leaning toward Derrick. Victoria gets to ask the last question and she gives a softball to Derrick about if he would have betrayed her. We already know she's promised him his vote regardless, but this was a great chance for him to get the last word. The Jury nods approvingly to his answer. I'm saying this one is Derrick's. Let's find out.
Before Jurors cast votes there is an opportunity for Cody and Derrick to argue their points. Cody says he sent all the "beast" players home and got the Hitmen to the Final which should be considering a puppet "in any play." Derrick says he kept his key out of the nomination block all season and won 4 HoHs. It's now time to vote.
As they load the key block Zach shouts out that he likes Jersey, but his heart is with Rhode Island. Hah! Julie reminds the Jury to not reveal their votes like that. Okay, all voting is complete and locked in.
Time for a few big reveals as Julie tells the HGs about Team America. Everyone is shocked and Zach see how he was repeatedly used and targeted by TA for their missions. He's shocked, but I think he'll get over it quickly.
Now Julie lets Derrick tell everyone he's a cop and was an undercover one who came in with the plan to profile the other HGs and work in the background. We're about to find out if it was a successful operation.
Big Brother 16 – Jury Votes:
Jocasta: Cody
Hayden: Derrick
Zach: Derrick
Donny: Cody
Nicole: Derrick
Christine: Derrick
Frankie: Derrick
That's enough! Derrick wins!
Caleb: Derrick
Victoria: Derrick
Big Brother 16 – Finale Results:
Derrick Levasseur wins Big Brother!
Big Brother 16 – America's Favorite:
Top 3 vote-getters: Donny, Nicole, and Zach
Donny wins America's Fav!
Thanks again for joining us this summer. Now get ready for Big Brother 17! CBS has confirmed the series will return in 2015 plus again for an extra season the following year! Join us on Facebook, Twitter, and by email to receive casting and season updates. We'll see you again soon.