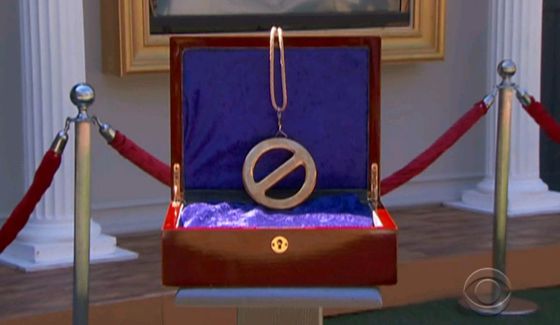 The Big Brother 16 Power of Veto competition is over and we have the results! Donny Thompson is the main target this week and the PoV was his shot at safety, but could he overcome a house against him?
Be sure to join us on Facebook and Twitter so you never miss another Live Feed spoiler.
Big Brother 16 Spoilers: Week 9 Veto Competition Results:
Cody won the Power of Veto!
Players today were Cody as HoH, Donny and Nicole as noms plus Christine, Derrick, and Frankie as drawn players. Caleb hosted the competition.
The challenge involved counting objects and then guessing how many. Players could then fold or stay. HGs said Donny and Nicole were very close each time but kept folding hoping to outlast the competition. Clearly their strategy did not work. They should have discussed this potential comp.
Now that Cody holds all the power (like Frankie did last week), Cody could decide to pursue the Evict-Frankie plan he discussed earlier. Of course without Derrick's blessing we know Cody won't do it and Derrick has already squashed that idea once.
Cody won an event to watch a CBS show. He picked Donny & Nicole to join him so they could eat.
The drama surrounding the player picks was Victoria's illness. She left for several hours due to passing out and requiring medical attention but returned and said if she was drawn that she could not play. This would have greatly benefited Donny and Nicole as they'd be competing against one less HG. Unfortunately for them, Victoria was not drawn. With 3 of 5 players being drawn it didn't happen.
What do you think of the PoV Comp results? What will happen at the ceremony? The Veto Ceremony will be coming up on Monday and we'll post spoilers when they happen.
Turn on your Live Feeds and enjoy the drama. Watch it all now live & uncensored.