Tonight on Big Brother 16 the spoiler results for this week's eviction and Head of Household competition will be revealed as two HGs will be sent home and another will take the top power.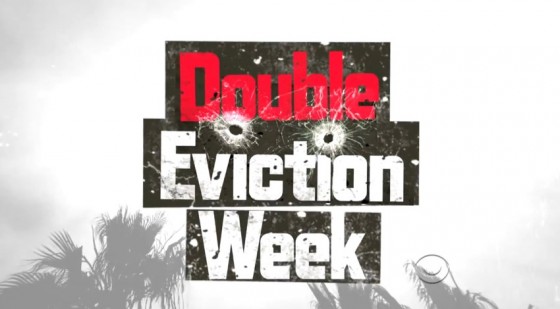 Not one, but two Houseguests will be sent home as the HGs race through an entire week's competitions and ceremonies in just one hour. These are typically the most intense shows of the season and with all the flipping and blindsiding expected we shouldn't be disappointed.
If your local CBS station is playing football right now then stick with us on this post for updates.
Join us tonight here for a live recap and discussion of the latest Big Brother show plus you can find us on Facebook and Twitter for even more updates as the game plays out in real-time on the Feeds.
Julie Chen confirms that tonight's two evictees with be the first to head to the Big Brother Jury and there will be nine Houseguests on the BB16 Jury.
We're getting caught up on what's been going on the past few days. Namely, Detonators turning on Zach and planning to vote him out tonight, but how long does that plan last? Hmm… Not long. We see the Detonators have decided to keep him.
Julie reveals we won't have a Battle of the Block tonight, but it'll return after tonight's Double Eviction. Another bombshell: Julie says that just because you're in the Jury doesn't mean you're out of the game. Sounds like a Jury member will come back!
Big Brother 16 Week 6 Votes:
Donny votes to evict: Zach
Caleb votes to evict: Jocasta
Christine votes to evict: Jocasta
Derrick votes to evict: Jocasta
Cody votes to evict: Jocasta
Hayden votes to evict: Zach
Frankie votes to evict: Jocasta
That's it! Zach is saved & Jocasta is evicted.
Victoria votes to evict: Jocasta
By a vote of 6-2, Jocasta Odom has been evicted from Big Brother 16!
Hayden and Nicole did NOT know before the vote was revealed that the house had flipped against them overnight. Nicole was scratching her head. Literally.
Big Brother 16 Week 6.5 Head of Household Comp – "Mathcathalon":
Round 1: Exactly – Only Caleb, Christine, and Zach remain! WOW!
Round 2: Less – Zach eliminated. Caleb & Christine remain.
Round 3: More – Both right.
Round 4: More – Christine eliminated. Caleb wins!
Wow! Caleb wins HoH! His noms are coming up right now!
Big Brother 16 Week 6.5 Nominations:
Hayden Voss
Donny Thompson
Who do you think will go home next?
Now time for the Veto comp. It's the standard Double Eviction Veto comp. They each have lanes & have to find three ducks in a ball pit.
Christine, Caleb, Zach, Hayden, Donny, and Victoria are playing in the comp.
Big Brother 16 Week 6.5 Power of Veto Comp – "Best of Duck":
Zach gets his first duck
Donny has his first when Zach gets his second!
Donny has number two!
Caleb has his second.
Donny has his third & wins!!
Donny has the PoV win and will definitely save himself. Hooray! He'll use it. Watch for Nicole to go up in his stay. I'd predict Hayden gets evicted.
Big Brother 16 Week 6.5 Power of Veto Ceremony:
Donny saves himself. Obviously.
Caleb renoms Nicole. He says for her to "sit next to your boyfriend."
Hayden's turn for a speech & he starts throwing people under the bus. Frankie & Christine mostly.
Big Brother 16 Week 6.5 Eviction Votes:
Cody: evict Nicole
Christine: evict Hayden
Derrick: evict Hayden
Donny: evict Nicole
Frankie: evict Hayden
Zach: evict Hayden
That's it. Hayden is evicted.
Victoria: evict Hayden
By a vote of 5-2, Hayden is evicted. Called it this morning. He was the bigger target against the bigger alliance.
Nicole started yelling at Zach then Christine as Hayden was walking out the door.
Jump on your Live Feeds NOW or get the Free Trial & watch to find out what happens next!
Don't stray too far because we'll have a LOT more Big Brother updates very soon. Friday I'll have interviews with tonight's evicted HGs. Then later on Friday we'll get the nomination results. This is the game that never rests and neither does our coverage!