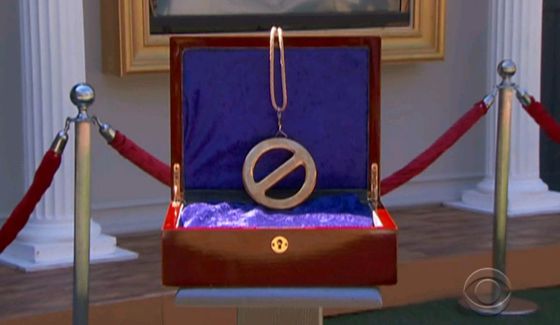 This week's Big Brother 16 Power of Veto competition is over and we have the results and spoilers.
Now we can finally get ready to deal with the final nominations after the house has been fighting over the undecided. Then again, we're still a ways off from the Veto Ceremony on Monday before things truly become final and official. I don't think we have to worry about them waiting for that though. Thank you, rash and volatile Houseguests!
Be sure to join us on Facebook and Twitter so you never miss another Live Feed spoiler.
Read on to find out who won and what that could mean for the game this week.
Big Brother 16 Spoilers: Week 2 Veto Competition Results:
Devin won the Power of Veto!
Devin had promised Pao he'd take her down and he'll probably do it. In that case Victoria will go up in her place. Zach will do a happy dance.
But wait, Devin is pulling in HGs and asking them to their face how they'll vote. He's being an extreme jerk. Now Devin is saying he won't use it after getting answers he didn't like.
Later Devin had a long, long talk with Brittany and promised to save her with the Veto. Of course he previously promised Paola the same thing. We'll have to wait and see what happens.
The HGs playing in today's comp were Devin as HoH, his nominees Brittany & Paola, along with selected players Amber, Derrick, and Zach. Donny hosted the competition.
Jump on the Feeds right now with a Free Trial and watch as the House reacts!
What do you think of the PoV Comp results? What will happen at the ceremony? The Veto Ceremony will be coming up and we'll post spoilers when they happen.
Turn on your Live Feeds and enjoy the drama. Watch it all now live & uncensored.