Just when I didn't think the Big Brother 16 game could get any crazier this weekend the HGs went and made it happen. Following Friday night's fight that set the Bomb Squad on a crash course the house was turned upside down again with the Veto competition.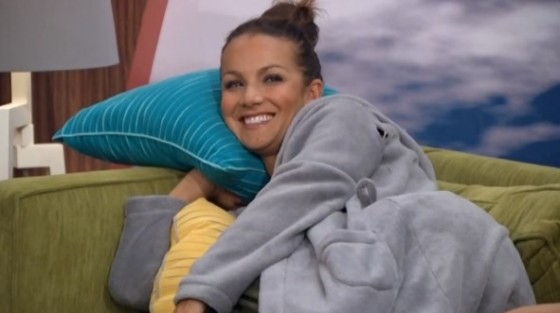 The Veto competition came late in the day but the results were quick to confirm that this would be no calm or easy week after all. There are more deals and reversals going on that are sure to set off the HGs as we move closer to the Veto Ceremony and this week's eviction.
Read on to find out about what happened in the Big Brother 16 House on Saturday following an explosive late night on Friday.
Big Brother 16 Live Feed Highlights – Saturday, July 5, 2014:
7:40 AM BBT – HGs still trying to settle in to sleep. Zach is up and twerking per the ladies' request. Brittany takes off her hoodie and the PervCam combined with night vision is rather revealing.

9:30 AM BBT – HGs get the wake up call. Most are very slow to react.

10:15 AM BBT – Christine lets Nicole know the plan is still on for targeting Pao this week.

12:00 PM BBT – Light chit chat. Nicole wonders if Zach could be the next Dan.

12:05 PM BBT – Devin makes a brief appearance downstairs to get batteries. He vowed to stay upstairs all week.

12:10 PM BBT – Jocasta joins Devin in the HoH room. He runs her through all the craziness and what's going on with Caleb and how Amber was involved in it.

12:30 PM BBT – Devin is pushing Jocasta to reveal where her head is at in the game. She says she'd leave noms alone if she were to play and win Veto.

1:00 PM BBT – Donny jokes around how he goes to bed early and the Feedsters are stuck just watching him in the mornings as the only one awake. Yep, that sounds about right.

1:45 PM BBT – Feeds return and Veto players were picked. Amber, Derrick, and Zach were picked to join in the comp.

2:15 PM BBT – Devin tells Frankie he won't out the Bomb Squad, but he's also out of the alliance until Caleb apologizes.

3:35 PM BBT – Have-Nots selected for the week. Devin picked Brittany and Victoria. Derrick and Zach were volunteers. Zach later vows to make sure Victoria doesn't sleep this week. Keep in mind that Victoria has so far refused to sleep in the same room as another man.

5:00 PM BBT – Cody tells Brittany there is no way he will vote her out over Paola. Cody is sick of Devin's behavior.

5:10 PM BBT – Caleb heads upstairs to apologize to Devin. Caleb warns Devin that Cody, Derrick, and Zach will go against him to keep Brittany.

5:45 PM BBT – Devin calls a Bomb Squad alliance meeting. Eight people up in the HoH room. Donny is in the DR preparing for Veto. That leaves four people alone in the rest of the house on lockdown. How long before you think they figure it out? Turns out the answer is about 15 minutes. Way too long.

5:50 PM BBT – Devin is leading the meeting and telling everyone they need to get back in line and do what he says. Keep each other safe. Don't target him. Don't talk game when he doesn't want you to talk game. Play Devin's game. He has a daughter.

6:00 PM BBT – The other, non-BS HGs arrive at the HoH door and want to come in. They get access and the Feeds cut for Veto. It was nice of production to let that meeting run its course before throwing us over to waiting for Veto results.

8:45 PM BBT – Feeds are back from Veto comp. Devin has won the Power of Veto this week.

8:50 PM BBT – Devin talking with Frankie about whether or not to take Brittany or Paola off the block. Devin thinks Britt will become more loyal if he saves her.

9:00 PM BBT – Devin pulling in his alliance one at a time to ask how they'd vote in Britt vs Pao and Vic vs Britt scenarios. Zach says he'd vote with the house. Devin says no, he wants an answer. Zach says he'd vote out Vic. Devin gets pissed off, says he can't trust Zach, and tosses him out. Zach asks if they can talk it through. Devin says no then grabs Cody to repeat. Devin is being a jerk and then can't understand where the animosity comes from.

9:05 PM BBT – Devin and Brittany are in the HoH room. He's considering offering her a deal. The conversation turns in to the most obnoxious echo chamber of the season yet with the two HGs complaining and sniping at each other. This goes on for about 80 minutes. I don't recommend watching this. It ends with them hugging and Devin promising her his support.

9:10 PM BBT – Meanwhile downstairs everyone is speculating about what deals Devin is offering.

9:25 PM BBT – Zach freaking out to Frankie about Devin's behavior to him. Frankie reminds him that he can't "tell the truth to the most unstable person in the house." Frankie encourages Zach to lie, lie, lie and tell Devin what he wants to hear.

9:45 PM BBT – Zach goes to Caleb and says he doesn't trust Devin and so forth. Frankie joins then after Caleb leaves he tells Zach that he just did exactly what he advised him to not do.

10:05 PM BBT – Zach continues to freak out and he tells Derrick all of the side alliances in the house that he knows of. Ugh.

10:25 PM BBT – Devin and Britt end their talk. He promises to use the Veto on her.

10:30 PM BBT – Now Devin has Victoria up in the HoH room for a talk.

11:25 PM BBT – Brittany and Devin circle back. He again confirms she's coming down and Victoria will go up.

12:20 AM BBT – Zach and Victoria have been talking in the Have-Not room. Zach tells her she's expected to go up on the block as a renom.

1:30 AM BBT – Zach wants to call a house meeting and out the Bomb Squad alliance. Derrick is trying to talk him back off that ledge.

2:00 AM BBT – Derrick gets Brittany to reveal all her Devin deal making details. Later she reverts to not revealing any information.

3:10 AM BBT – Zach, Derrick, and Cody talking game. They expect Britt to come down. All are worried about Caleb and Devin and what's going on with their alliance. Zach knows Frankie has final deals with stacks of HGs.

4:30 AM BBT – Brittany & Zach are up and wandering. Neither can sleep (they are Have-Nots).

5:45 AM BBT – Cody complains with Zach about Caleb and why they don't like him. Cody is tired of hearing about Amber and doesn't like how Caleb borrows his things and doesn't treat them well.

6:00 AM BBT – Victoria and Zach cuddle up in a Have-Not bed and try to get some sleep.
Devin is set to go back on his deal with Paola if he really does save Brittany. If that happens the HGs will have an interesting but inconsequential decision: save Paola, a week competitor who has admitted to throwing comps, or keep Victoria, a not terribly well liked HG. Not really a lose-lose scenario but still a choice they'll have to make.
You can watch all of these Big Brother 16 events using the archives flashback, the DVR-like feature of this year's Live Feeds which means it's always live, even when you missed it! Sign-up now to get the free trial to watch it all live & uncensored.
click images to see full-size