Caleb Reynolds and Devin Shepherd went from the closest of Big Brother 16 allies to butting heads and breaking alliances in just a few short hours last night and we got to watch it all online.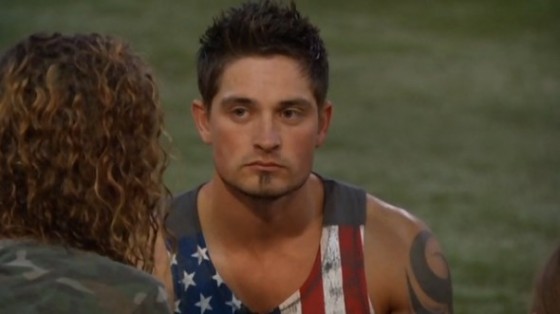 To set the Big Brother stage, Flashback on your Live Feeds (Don't have them yet? Get your Free Trial now.) to 2:25AM BBT 7/5 to find Derrick, Christine, Caleb, and Amber discussing concerns over Devin. Derrick is facilitating the discussion that Amber is feeling concerned and suppressed by Devin's words and actions. Caleb to the rescue!
Move forward on last night's timeline to 3:07AM BBT to find Devin coming outside to joining the guys at the pool table. Caleb wastes no time and immediately tells Devin there's a problem.
Caleb is concerned that HGs suspect Devin put Brittany up for personal reasons over game reasons. Devin says absolutely he did that. He admits to openly saying it was a personal move.
Now Caleb warns Devin that he doesn't have the votes to evict Brittany and that he's causing rifts inside their alliance. Devin says he doesn't care if she doesn't go home, but he doesn't believe that he (Devin) is mishandling their alliance. Soon Christine gets dragged outside and has to say that no, Devin wasn't threatening or scaring her in recent talks.
Devin is upset and heads upstairs with Frankie to vent. Both are upset at Caleb screwing up what they've got going on especially when it's working. Frankie is lending a supportive ear to Devin's concerns when Devin gets up to leave. Frankie tries to get him to stay, but Devin is off and back downstairs to go outside and confront Caleb over his claims.
Devin asks Caleb to walk with him. Caleb asks, "do you feel better?" Devin replies, "no, I don't." Devin says he's got Caleb's back and Caleb is sitting there talking to him like that accusing him of mistreating the girls. Devin is very frustrated with Caleb.
Did you know you can watch Houseguests online with the Live Feeds? Get your Free Trial now!
"There's no more alliance. There's no more alliance. We're done," says Devin. They walk back to the pool table as both continue to take jabs at one another. Caleb asks if that's how he handles it and Devin says it is. Devin reiterates that they're done.
While all this is going on the sliding door is open and other non-Bomb Squad HGs are just inside. Jocasta heard the argument, but the guys try to convince her Devin was just referring to him and Caleb rather than anything larger, like say an 8-member alliance.
Later at 5:34AM BBT Zach and Frankie go to the Hive where Frankie gives Zach a recap of what happened with the fights. It's another good listen and he wraps it up quickly. There's also a mention of Caleb now becoming a possible target for Devin if there's a renom opening. Oh my this could continue to get even better for Big Brother drama.
Watch Big Brother Feeds online & on the go with mobile access on your phone. Sign-up now!
What do you think of all this drama? Is there much of a point while the Veto is still in play and the final nominations are undecided for the week? We should expect the Veto competition later today and with it a new indicator of what direction things could go. Of course the Veto Ceremony won't happen until Monday and a lot of cooling off can happen before then. On the other hand, a lot of heating up could happen as well.