Big Brother 16 is sure to be exciting and wild tonight and that's before we even get to the live eviction portion of the episode! Picking up off last night's cliffhanger the Veto Ceremony will play out with what's sure to be great chaos.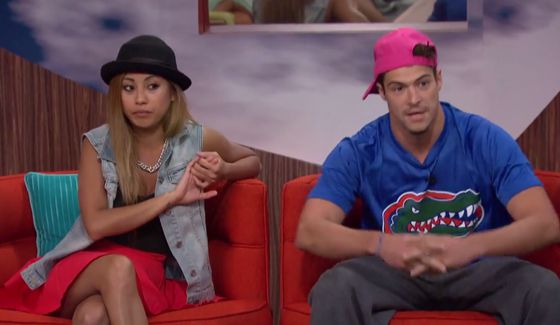 Houseguests have been reeling from Zach's decision to expose his alliance and the effects have been wide reaching since these events took place on Monday. Now we'll see if it was a brilliant move to scatter forces and regroup them to support him or if it will have shaken the house's confidence in their former ally. Either Zach or Paola will be evicted tonight.
Along the way we'll find out what Big Brother's Team America will be tasked to complete: sibling rumor or a kiss & tell rumor? The results of your votes will be revealed tonight.
Here we go as the Veto Ceremony kicks off. Brittany calls out Paola for throwing the comp which makes Paola call out Devin for his broken promise to her. Now it's time for the Zach Attack! Zach calls out Devin for being a two-faced liar to everyone including his alliance.
To get the full details of the hours and hours of fallout from that meeting. The house went crazy and it was fantastic to watch! Zach and Paola went at it while Frankie immediately freaked and threw Zach under the bus over and over. He actively campaigned to get Zach evicted that afternoon.
As part of the fallout Derrick went around played clean up for Zach while convincing the HGs to keep him. Derrick has a silver tongue and it was magical to see him work them over. Frankie is sure to sink his game just a little farther by taking the news of Zach's safety to Devin. Sheesh, Frankie.
Now we're coming up on the speeches & live eviction vote. Let's see what happens!
Big Brother 16 Week 2 Votes:
Jocasta votes to evict: Zach
Brittany votes to evict: Paola
Derrick votes to evict: Paola
Donny votes to evict: Zach
Caleb votes to evict: Paola
Amber votes to evict: Paola
Hayden votes to evict: Paola
Cody votes to evict: Paola
Frankie votes to evict: Paola
That's it. Paola has been evicted.
Nicole votes to evict: Paola
Christine votes to evict: Paola
Victoria votes to evict: Paola
Paola Shea was evicted 10-2 tonight on Big Brother!
One competition tonight for the 2 HoHs picked. Two players with the highest scores will win.
Big Brother 16 Week 2 HoH "Underwater Polo":
Amber: 17
Cody: 17
Caleb: 21
Frankie: 24
Christine: 4
Nicole: 29 (highest #!)
Victoria: 12
Brittany: 16
Zach: 8
Donny: 20
Hayden: 17
Jocasta: 22
Derrick: 28!
Nicole & Derrick are the New HOHs! Congrats to both. Watch out, Devin!
On Sunday we'll find out which Team America mission was selected along with the noms and Battle of the Block competition.
The Live Feeds are back and the Houseguest are scrambling! Who will Derrick and Nicole put up? I think we all know who they're going after. Derrick is already talking about putting Devin on Slop if he gets the chance. Grab your Free Trial and watch!