Tonight on Big Brother 16 we'll see which Houseguests survive the Final Four eviction show and move on to the season finale. By the end of the night there will be just three players left in the season as they head out to compete in the first round of the Final HoH comp.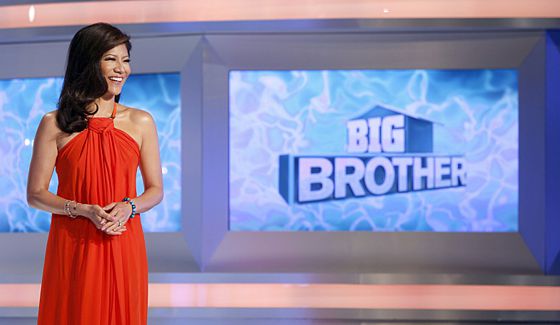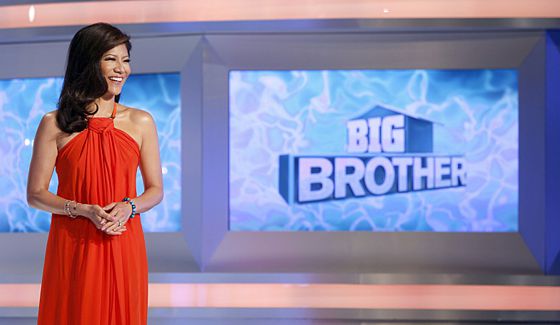 Julie Chen hosts Big Brother 16 – Source: CBS[/caption]
After last night's elimination of Frankie we saw Derrick take control as HoH and secure both his seat in the F3 and the security of having never been nominated through a season of double nominations. Who else will join him? We'll get the official results tonight with the Nominations Ceremony, Power of Veto competition, Veto Ceremony, and eviction vote. Yes, it will be a very busy night.
Join us tonight here for a live recap and discussion of the latest Big Brother show plus you can find us on Facebook and Twitter for even more updates as the game plays out in real-time on the Feeds.
Tonight's show opening with Frankie getting evicted. Before he was sent out Derrick warned him, as he often has done this season. Frankie warns all the guys that if they do that he will be the most powerful HG as a Juror who will decide who wins. Frankie's ego can barely fit inside the room. The guys tell Frankie he's delusional. That was absurd of Frankie, but completely in character from what he showed the HGs all season.
Derrick has to pick his nominations. Victoria is a given as he's pretending to be against her still. Cody says he doesn't want to go up so Derrick tells Caleb he has the Veto as a chance to secure his safety.
Big Brother 16 Week 12.5 Nominations:
Caleb jokes around at the ceremony and leaps from his chair with a "Judy Chop!" at Derrick. Now on to the most important Veto comp of the season.
Going in to this everyone thinks Derrick has his or her back, but Derrick tells us he is planning to throw the comp since it gains him nothing. Good plan.
Big Brother 16 Week 12.5 Power of Veto:
This win secures Cody has a spot in the F3, but it also means he'll have to cast the sole eviction vote.
Big Brother 16 Week 12.5 Power of Veto Ceremony:
Cody cannot use the Veto as only HG left
Julie asks Victoria for her 9th nomination speech. Vic hasn't made it to eviction night nine times though, but nine noms is definitely a lot! Caleb gives a very nice speech.
Cody has the sole vote and has to do it out in the open. Cody reveals the Hitmen alliance before casting his vote.
Big Brother 16 Week 12.5 Eviction Votes:
Cody votes to evict: Caleb
Caleb tells Julie he is closer to Derrick, but also more disappointed in Derrick even though Cody did the evicting.
Big Brother 16 Final Head of Household Comp – Round 1:
Endurance comp is live right now! Live spoilers here
Julie announces this will be shown on Friday's show (8/7c)
Jump on your Live Feeds NOW & watch to find out what happens next! When the Feeds return we'll hopefully be watching the big endurance competition of the season. Sadly last year it stretched out for about twenty minutes and started at 12AM ET, so let's hope these HGs do a bit better. Tomorrow I'll have our interview with tonight's evicted HG to share as well.
Don't stray too far because we'll have more Big Brother updates soon. This is the game that never rests and neither does our coverage! We're planning plenty of post-season coverage again this year so don't forget to keep checking back in with us.