Eviction prediction time for Big Brother 16 this week's second eviction arrives and this one could catch its target in quite the blindside. There's only one vote up for grabs so there isn't much to consider.
I'll be discussing the latest spoilers ahead including Veto results which have not been revealed on the show yet, so if you're keeping tonight a surprise then stop reading now.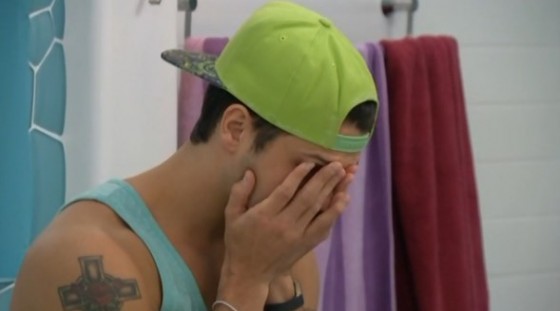 Tonight's eviction would hinge on who won the last Power of Veto of BB16. Derrick already had safety to the F3 and if anyone else won it the Veto would do the same for them. Those spoilers are in and while things now look set for the next elimination, there's always room for a surprise.
Cody won the Veto yesterday which means he will be deciding which of Derrick's two nominees, Caleb or Victoria, will be cut just shy of making it to the season finale.
The plan since this was weekend for the Hitmen to cut Caleb at Final Four. Cody has said he'd feel terrible about doing so but he also understands it's the best move for his game. With Caleb out of the F3 HoH comps his odds are better against Victoria instead.
Will Cody pull the trigger on their plan and send Caleb out the door tonight? Yes, I believe he will, but his worries over doing it appear to give him enough pause that I'd say there is a small chance he might not.
Caleb made a bad move for his game by supporting sending Frankie out the door. With Frankie no longer there Caleb became the top target for Cody and Derrick and with that he had to go.
A Final 3 endurance comp with these three guys would have likely been much more exciting and competitive, but I wouldn't expect to see it play out that way on tonight's show.
Who do you think will be voted off Big Brother tonight? Cast your vote in the poll & share your thoughts.