We have this week's Big Brother spoilers revealing what happened with the Veto this week. The Feeds have returned and the results have confirmed this week's final nominees who will be on the block when the Big Brother Rewind twist hits this Wednesday night.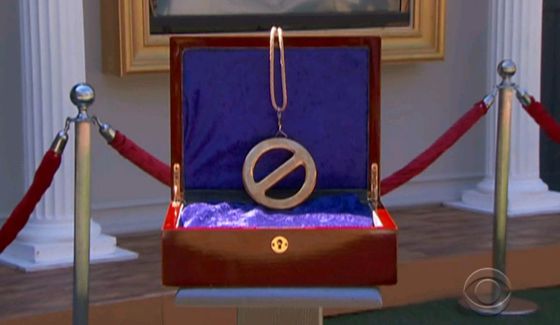 The Houseguests don't know for sure, but they expect something is going on with the button they pushed the other night. Frankie just hopes it doesn't wipe out all his achievements this week. Oops.
Read on to find out the latest Big Brother spoilers and discover who is now on the block.
This week's Veto winner, Frankie, decided not to use the PoV just as he promised Derrick last night. Frankie wanted to prove his loyalty to the guys.
The final nominations for Week 11 on Big Brother 16 are Cody Calafiore and Victoria Rafaeli.
In a VERY cool event we actually got to watch the whole Ceremony play out LIVE on the Feeds. Flashback to 12:02PM BBT 9/7 to see how it all went down.
click images to see full-size view
The guys are already patting themselves on the back for having made it to the F4. Of course it's likely that they could all get back to this very same point, but Victoria will have a renewed chance on Wednesday to make it to the F4 whether it's by her own hand or someone else dragging her to the end.
Jump on your Live Feeds now to watch the house react. Don't have the Feeds yet? Get your Free Trial right now and see what other fans are watching right now.