Tonight on Big Brother 16 the spoiler results for this week's Double Eviction and Head of Household competition will be revealed as two HGs will be sent home and another two will take the top power.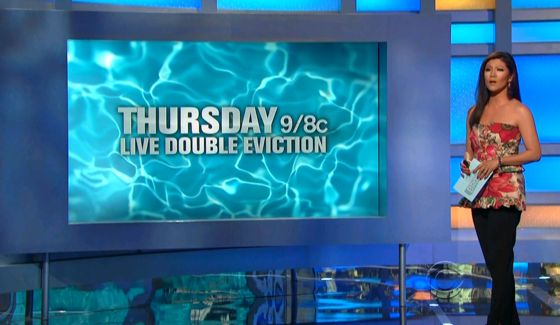 Julie teased a new twist will hit the house tonight! There's a photo showing a gold button that looks like the "reset" button. Combine that button with news that the Have-Not room was rebuilt & sealed last night and we could get something very interesting along with tonight's double elimination.
Not one, but two Houseguests will be sent home as the HGs race through an entire week's competitions and ceremonies in just one hour. These are typically the most intense shows of the season and with all the flipping and blindsiding expected we shouldn't be disappointed.
Join us tonight here for a live recap and discussion of the latest Big Brother show plus you can find us on Facebook and Twitter for even more updates as the game plays out in real-time on the Feeds.
Big Brother 16 Week 10 Votes:
Christine votes to evict: Nicole
Derrick votes to evict: Nicole
Frankie votes to evict: Nicole
That's enough votes. It's official.
Cody votes to evict: Nicole
Nicole Franzel has been evicted, again. 4-0 this time.
Competitors have to fill in the blank from a previous HG's bleep comment with True or False based on what Julie tells them. It's a memory game from what HGs said in the season so far.
Big Brother 16 Week 10.5 Head of Household Comp – "What The Bleep?":
Round 1: False! Derrick just won HoH in one round!
Everyone but Derrick guessed 'True' with a question about Donny reading his letter from home. It was 'False.' Derrick is the new HoH! His noms are coming up.
We get to see Derrick talking with the other HGs. He promises Victoria safety, but she's going up against Christine. Derrick tells Caleb that if Christine comes down then Frankie goes up and out.
Big Brother 16 Week 10.5 Nominations:
Christine Brecht
Victoria Rafaeli
If Christine doesn't win the Veto then she will most likely go home. Let's see what happens!
This comp is a cascading series of puzzles with the last disc dropping the ball on to a sensor.
Big Brother 16 Week 10.5 Power of Veto Comp – "Mazed & Confused":
Frankie is the first to the second disc with Christine just behind him. All are on the second disc.
Frankie gets to the third and final maze first. It's his to lose… there he goes!
Christine will be in trouble here as long as Frankie doesn't go wild & use it on her.
Derrick is sitting on top of Frankie (not literally) to keep him on target. Derrick tells him not to use it and then they'll get out Victoria next week and then they'll have F4 all locked up. Caleb & Cody both confirm to Frankie that Christine will go home in the vote.
Big Brother 16 Week 10.5 Power of Veto Ceremony:
Final noms for the DE are Christine and Victoria.
Big Brother 16 Week 10.5 Eviction Votes:
Frankie: evict Christine
Caleb: evict Christine
That's enough. It's official.
Cody: evict Christine
By a vote of 3-0, Christine Brecht has been evicted from the Big Brother house.
Julie reveals more about a new twist called "Big Brother Rewind." If any HGs push the button next week then the entire week is wiped out & they do it over. Wait, what? Why would anyone in the hot seat not push the button if they expected to walk out the door? Umm.
Jump on your Live Feeds NOW or get the Free Trial & watch to find out what happens next!
Don't stray too far because we'll have a LOT more Big Brother updates very soon. Friday I'll have interviews with tonight's evicted HGs. Then later on Friday we'll get the nomination results. This is the game that never rests and neither does our coverage!