The Live Feeds have arrived and with it comes the first set of possible Big Brother spoilers, but tread carefully as we're still getting our bearings and things could be fluid.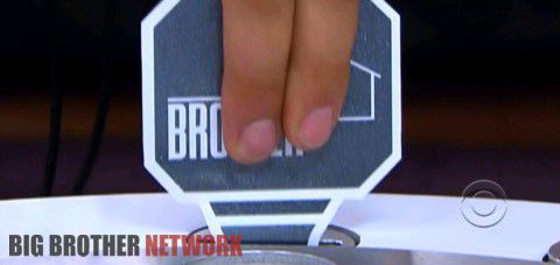 When the Feeds started the HGs ran around the house and eventually calmed down in the kitchen. Lucky for us the Memory Wall sits in the kitchen and soon we could see two keys missing. Read on for the spoilers to find out who appears to be nominated.
Taking a glance at the Memory Wall we can see all but two keys on the wall:
Big Brother 16 Week 1 Nominations:
Caleb's: Donny & Paola
Frankie's: Brittany & Victoria
Speaking of Caleb, we saw him upstairs on 2nd floor while Frankie was hanging down below. One possibility from that is that Frankie's noms won the Battle and got off and sent him back to the mix too. If so, then Caleb will remain HoH and his nominees were Donny and Paola.
We'll keep watching to find out if this is all accurate, but for now I can confirm that Donny's & Paola's keys were not on the wall while the rest were.
Yes, from more conversations it definitely sounds like Frankie was dethroned and Caleb remains as HoH. Veto comp coming up on Friday.