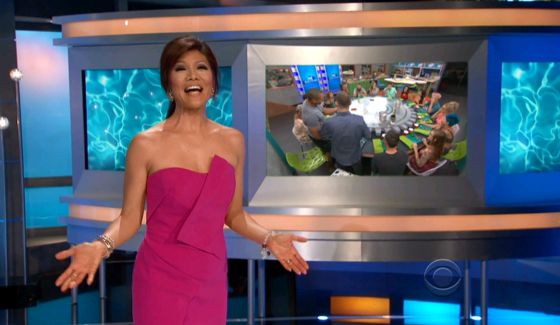 The Big Brother 16 two-night premiere continued Thursday night as the second set of eight houseguests entered the house and a second Head of Household was crowned. It was a lot different this time compared to night one because there wasn't a lot of getting to know each other or alliance forming. It was more about the two groups merging and what lies ahead for the players.
At the start of the episode, Julie introduced us to the new eight and here's what I gathered about them from that segment:
Victoria. She an Orthodox jew who does not dress it (meaning she dresses like a stripper). She finds it easy to manipulate guys. Loves shoes.
Caleb. He's a metrosexual country boy. He compared himself to Robin Thicke. He's a douche. But a douche who likes to smell good.
Brittany. She seemed sweeter than she did in her pre-season interviews. And she's ready to flirt.
Christine. She's a Big Brother fanatic and she loves being naked. Great.
Derrick. Undercover police officer who looks like an undercover police officer.
Zach. He golfs and chills. "I'm lying every single time I open my mouth." He hates everyone.
Jocasta. She loves bow ties and Jesus. BUT she has been with a lot of people (sexually I think she means). But Jesus saved her.
Hayden. "Goofy funny kid" who got straight A's in school.
After the key deliveries and introductions, Julie tells the new eight about the first eight. They're all panicking and it gets worse when she tells them that one of the eight already in the house is HOH. But then she tells them that one of them will also become HOH. And then everyone just looks confused as half of America. So Julie sends the first four in. Jocasta, Caleb, Christine and Hayden head in.
Then it's Victoria, Zach, Derrick and Brittany. The groups have merged and chaos has broken out. Caleb is liking Amber right off. Nicole is upset that the pre-existing alliances are going to crumble. Derrick, who is definitely not a cop (SHHH HE'S A COP), is trying to bond with Brittany over both being parents.
Paola is trying to prove she has bigger balls than Caleb (for some random reason she's struck up an instant rivalry). Frankie is concerned that Caleb is going to be a homophobic jerk. Devin is drooling over Caleb (sorry Amber and Joey). And Donny is making cricket sounds. It's madness. And most of it involved Caleb, it seemed.
When things settle, the new eight get the feeling that they're on two different teams. Which is true. Sort of. Since the first eight made that dumb alliance the night before, it's kind of like there are two teams. But Frankie and Victoria decide they're BFFs (sorry again, Joey), so there's already a crack in that first alliance.
It's time for the second HOH competition. And surprise! It's also about Caleb. The HGs have to hold onto a rotating barbecue spit. And the order that they drop isn't surprising at all. Order out: Victoria, Brittany, Jocasta, Christine, Zach, Derrick. That leaves Caleb and Hayden. Hayden drops and Caleb becomes the second HOH of the summer. And right away Frankie changes his tone about Caleb and decides he wants to work with him (this is further detailed later when Caleb is shown giving Frankie a piggy-back ride around the Big Brother house). Julie calls everyone into the living room to end the speculation.
Here's how the twist will play out: Each HOH will nominate two HGs for eviction. That's four nominees total. The new competition called The Battle of the Block will then come into play. Frankie's two noms will battle Caleb's nominees. The winning team of nominees will be safe, but will also dethrone the HOH who nominated them. Interesting.
It's Team America time. Who did we vote for? Joey. No, you read that correctly. For some reason, America voted Joey as the first member of Team America. And that's that.
What did you think of the second night of the Big Brother 16 premiere? Who are you loving and not loving so far?