This week's Power of Veto comp is about to be rewound thanks to the latest twist to hit Big Brother. With all the week's events being nullified we came close to seeing some hidden motives reveal to the House.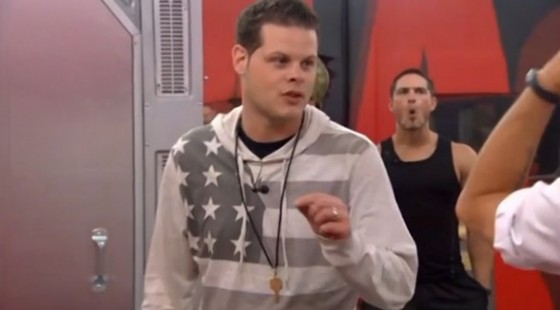 Viewers know the entire week's efforts by HGs won't matter for official results, but any of their actions could linger in their minds when it comes to the final steps of the season. Like watching another HG's private DR sessions this twist could have given a sneak peek of looming betrayals.
The Veto competition on Saturday was decided by just 23 seconds and while the second place player in that comp regrets those results, I think he should be very grateful.
Derrick narrowly lost out to Frankie in the latest PoV battle who has already decided to not use the Veto on either Victoria or Cody. But what if Derrick had won that Veto? I think we could have seen a series of events which could have seriously damaged his chances to pull off the big win.
With Derrick and Caleb on the sidelines a Veto win and use by Derrick would have forced Frankie to renom the only other HG available: Caleb. Let's say Derrick went so far as to use the Veto on Victoria, his handy sidekick pawn. That would have pitted Cody against Caleb with Derrick basically controlling the two deciding votes and avoiding a tie-breaker.
Derrick would have moved towards the next eviction thinking he had just secured what might be his best scenario for a F4: Cody, Frankie, and Victoria. I believe any of those three would take Derrick on the F2.
Obvious problem here though as that eviction vote wouldn't have happened. Cody and Caleb would have come down off the block and Caleb would have likely been one very pissed off cowboy. A rerun of events that put Frankie or Caleb back in power might have resulted in Derrick going up and out once his hand was tipped and his cards shown.
With Frankie holding all the power and proving to remain loyal to the guys this week there won't be a surprise betrayal for anyone.
Derrick doesn't know it now, but I think he got very, very lucky by losing that Veto by just a few seconds in what could have been a seriously bad sequence of events for him come Wednesday.
Do you think Derrick would have used the Veto to protect his pawn or is he ready to send a vote in his pocket on to Jury?