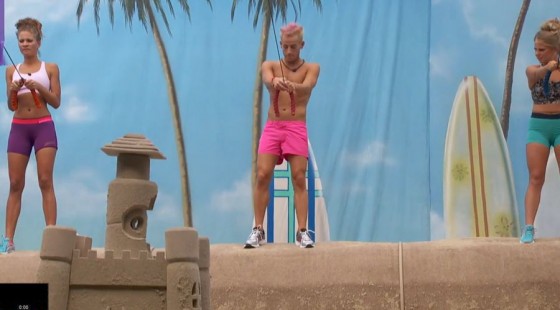 "Go Grande or go home." Big Brother 16 houseguest Frankie Grande said that and it truly felt like the theme of the episode. Not just because Frankie is pop star Ariana Grande's sister, but because he earned the air time he got and finished the night by becoming the first Head of Household.
I can tell you that I'm not going to be a fan of Frankie's name-dropping or all the Ariana references, but all that aside, Frankie does make a pretty great houseguest. And his little bromance with Cody was one of the highlights of the night. How long will that last? Who knows. But for now, it'll be fun to watch.
So there's my overview of the episode. Let's back up and get to this chronologically.
Julie starts the episode inside the house, hints at all the twists and then heads out to the studio stage to show us the key deliveries of the first eight houseguests (the other eight move in Thursday). I'm always a fan of the key deliveries so I always try to figure out who these people really are before they enter the house and become totally different people. Here's what I gathered from this group:
Paola has three months worth of eyelashes and I'm not going to like her.
Donny packed his church britches, so we know what he'll be wearing on live show nights.
Cody makes out with his dad. No really. His dad mouth kissed him and then basically made out with his neck.
Frankie, the "Queen of YouTube," can't not talk about his famous sister. How is he going to go all summer without talking about his sister. I don't think he can. He'll probably have spilled the beans by the first Live Feeds
Amber likes guns.
Nicole will be peeing her pants.
Devin is a single dad and doesn't look like The Rock despite what he said.
Joey is Liberal and will most likely clash with 80 percent of the other HGs since most Big Brother HGs are not liberal. Ever.
When we cut back to the studio, the first eight are already gathered around and Julie tells them they'll be experiencing the most twisted summer ever. And they're all talking and not being silent. I don't like this change. But anyway, she starts sending the HGs in the house four at a time and it doesn't take long for the game to begin.
Paola instantly has a crush on Cody. So does Frankie. Amber seemed to fall instantly in love with Devin. But Devin says Joey is his type. Uh-oh. This could get interesting.
And as if the record-time showmance suggests weren't bad enough, alliances start forming. Devin and Paola start saying the original eight need to stay together. Even though we all know it will never work. They seem to think so and even give it a name: "The Crazy Eights." Dumb.
Devin isn't done there, however. He decides he wants to team up with Donny. And Donny is interested, so there's alliance number 2. They are the Double D's. OK, slow down, Devin. Slow down.
Meanwhile, Paola and Joey are excited for an all-girl alliance and pull in Amber and Nicole. Paloa has a named already picked out: El Quatro. That's three alliances. In the first episode. OK.
Thankfully Julie breaks up the talk before a 15th alliance forms. She calls them to the living room to tell them that more people will be coming and that one of the original eight will become the first Head of Household of the season.
"Just because you're head of household doesn't mean you're safe," she teases them. Mouths drop.
It's time for the first HOH. We get a sped-up version of this so it's hard to tell who actually has any stamina. Order of elimination: Paola, Joey, Nicole, Donny, Devin, Cody, Amber. Frankie wins HOH.
Julie calls the HGs to the living room and asks Frankie to take one of the orange chairs. More mouths drop. But it doesn't really mean anything. She tells them that another group will enter the house and someone from that group will become HOH as well. "That's right, there will be two HOHs. But by the end of the week only one HOH will be left standing."
And that's all she gives them. And us. We still don't know what Battle of the Block means or how any of that works out. But she did let us in the Team America Twist.
Team America will be a secret three-person alliance chosen by and controlled by America. We've already picked the first member and my guess is that it's Frankie. And who will the other two be? I wouldn't be afraid to bet on Cody. But what about the third person? I'm not sure yet.
What did you think of the premiere of Big Brother 16?