Here. We. Go! It's the Big Brother season 16 premiere event with part one of the two-night special kick-off. We'll soon be watching our favorite HouseGuests scurry around their new home for the summer and if you don't have any favorites yet just give it a night.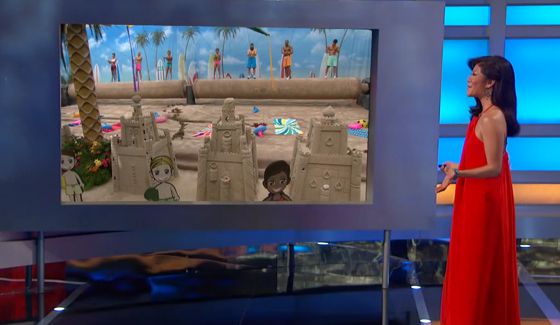 Tonight's premiere will start with introductions of all the new Big Brother 16 cast (read their bios & watch interviews here) as they get their "Key Surprise" moments with family and friends before being whisked away to Los Angeles. Once they're all gathered up the HGs will head inside and fight for beds and, soon enough, power.
But wait, oh no, I meant "but first," there's a twist! Not everyone is going inside the house tonight. Instead the new cast will be split apart with eight players entering now and another eight moving in during Thursday's part two of the season premiere.
So who goes in tonight and who gets left behind? Let's find out as I live blog the Big Brother 16 season premiere. Stick with me here on this page and share your thoughts in the Comments section below. I'll keep updating this article with everything as it happens.
And we're off! First up we get Julie Chen status us up, but remember, this is not a live show. We get our first round of introductions with Paola (DJ), Donny (groundskeeper), Cody (shirtless athlete). Now Frankie (YouTube personality) and Amber (model). Final three of this half are Nicole, Devin, and Joey.
Now they're all getting packed up and ready to head to the Big Brother house. Seems like most everyone is heading there looking for romance rather than a half-million dollars.
Julie has these eight players out at FOTH and is telling them it will be the most twisted season ever. She doesn't explain why it's just eight of them there. I'd bet they're all thinking "Vets."
First four in: Joey (<-- cursed!), Cody, Donny, and Amber. Second four: Devin, Paola, Frankie, and Nicole. Group one realizes there has to be another eight, but that doesn't stop them from grabbing the champagne and going around for introductions. Cody is crushing on Paola oh and guess what. Paola has a crush on Cody already too. Well that could be our first showmance. They're not alone on showmance potential though. Amber is hot for Devin while Devin is hot for Joey. This is a Big Brother / Bachelorette crossover season apparently.
Julie promises more details on the Team America twist that will allow viewers to impact the game. We'll find out how the preseason poll went.
The first eight HGs are still in there alone and have started to form an alliance to stick together no matter what else happens. All agree to be one big alliance. But off on the side Devin grabs Donny and forms a special sub-alliance.
Now the girl power is starting up. Paola goes to Joey, Amber, and Nicole and forms an all-girls alliance. They name it "El Cuatro." Okay.
Julie comes on the screen and tells them to get ready for the first HoH comp. And now she's revealing the "HoHs aren't always safe." Before she explains anymore Julie vanishes.
Time to play for Head of Household! HGs rush outside to face "Go Fly A Kite." It's an endurance comp and Paola is down already! Uh oh, Joey is struggling too. Yep, there she goes. Nicole is soon after.
Just Amber, Frankie, Donny, Devin, and Cody remain. Big Brother starts squirting them with "sunscreen lotion" and then flips the direction of the rolling barrel. Yikes!
Quickly Donny and Devin fall leaving Amber, Frankie, and Cody. One of them will be the first HoH of the season! It won't be Cody, he falls next. Then Amber decides to throw it because she's worried about that mysterious twist.
Frankie wins Head of Household! Congrats to Frankie!
Julie is ready to reveal more about the HoH "not safe" twist. She has Frankie sit in one of the orange "noms" chairs. Uh oh? She explains another eight HGs are coming in and there will be another HoH. We know that much.
"But by the end of the week, only one HoH will be left standing. I'll leave you with that." So we don't know anything new after all this? Dang.
Okay, but here's something new. Team America will be a secret 3-HG alliance. We already voted one HG in and over the next two weeks we'll vote in another two. From there we'll be giving that secret alliance tasks. Thursday night we'll find out who the first is (Frankie) because it could be anyone (Frankie. Really any of these first 8 could be it. It'll be Frankie.
The two-night premiere continues on Thursday night at 9PM when we'll get the rest of the HoH twist details revealed.
Meanwhile, join us on Facebook, Twitter, and by Email Updates. Don't forget: Early Bird sale price for your Live Feeds is ending imminently so if you're planning to get those then do it now!