While we've discussed plenty of Big Brother 16 speculation of a teams arrangement we can now confirm that yes, it appears as though the Two Night Move-In Big Brother premiere will feature HGs entering in two groups of eight each night over the Wednesday and Thursday episodes.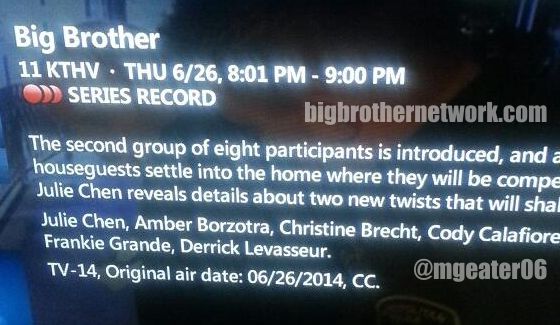 Thanks to the quick eyes of reader @mgeater06, we can see the details from the upcoming schedule which describes Thursday night's episode, the second half of the premiere:
"The second group of eight participants is introduced and as all houseguests settle into the home where they will be competing Julie Chen reveals details about two new twists…"
We've also seen in the general descriptions online that Wednesday night's episode will include the first Head of Household competition. So it does appear there will be predetermined halves to the house with teams of eight set up and ready from the very start.
Note: I'm using "teams" and "groups" interchangeably here. We don't know if they'll play as teams going forward after move-in, but they will be competing along split divisions for at least the start.
Team A will enter on Wednesday and compete for Head of Household. Then on Thursday night Team B will repeat the process. That's how we'll end up with first set of Double HoHs.
As for if Team A's HoH will nominate from its own team or the other side is yet to be seen, but this is a definite change up for a game play we've come to know. Will the uninitiated HGs have an advantage here over the super fans who are expecting and preparing for one thing but will be confronted with something completely else? Discuss!