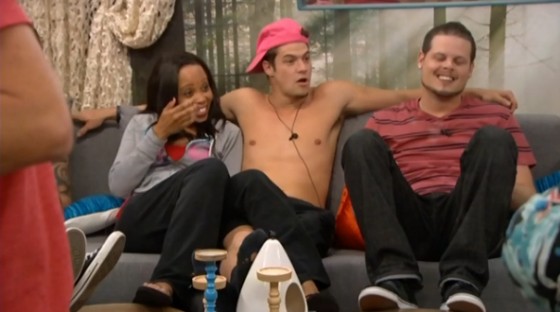 There's been a bit of a power shift in the Big Brother 16 house, but with the talk going on in the house, you wouldn't really know. It sounds like Nicole and Donny are both going to nominate the usual suspects with a couple of the guys thrown in. But there are some backdoor options being discussed also. Find out what else happened on the Big Brother feeds last night.
Big Brother 16 Live Feed Highlights – Thursday, July 31, 2014:
7:07 PM BBT – Feed return. Nicole and Donny won HOH in a tie-breaker question. Zach was way off and is very mad at himself.

7:13 PM BBT – Frankie tells Hayden and Zach that Donny will never nominate Jocasta so that means Donny won't stay HOH.

7:14 PM BBT – Donny and Nicole are talking in private about working together as HOHs. They don't say any names to each other, however, so there seems to be questionable trust already. They only thing they agree on is that Hayden is 100 percent safe this week. Donny mentions there are some people in the house (Cody, Frankie and Derrick) who don't know what it feels like to be nominated.

7:20 PM BBT – Jocasta is very upset about not winning HOH. She wanted to see her family. Derrick comes in to comfort her.

7:35 PM BBT – Zach tells Nicole that he knows she'll probably be putting him up and that's fine. He basically volunteers.

7:47 PM BBT – Nicole says she's ready to make some moves.

8:06 PM BBT – Cody tells Derrick that they are safe with Nicole but she'll probably nominate Zach.

8:11 PM BBT – Derrick tells Nicole she's not succeeding playing Dan Gheesling's game. She said she was too afraid to throw it this week.

8:17 PM BBT – Nicole tells Derrick she'd like to get Frankie out. Derrick doesn't protest.

8:30 PM BBT – Zach announces to the house (loudly) that Nicole is putting him up.

8:33 PM BBT – Donny tells Derrick he won't put up Jocasta but if he ever had to vote her out he would. He said they're not aligned, they're just friends.

8:40 PM BBT – Derrick tells Donny he should nominate Jocasta and Victoria because they'd lose the Battle of the Block. Donny still isn't interested in nominating Jocasta.

8:53 PM BBT – Donny doesn't want to go for strong players since BOTB is still a thing. He said he had a plan if there was a single HOH, but now he has to rethink things.

9:01 PM BBT – Cody and Donny are talking. Donny says the Caleb is one of his options to nominate.

9:26 PM BBT – Christine and Donny are now talking. She tells Donny the four people that should go up are Victoria, Zach, Jocasta and Cody with Caleb as a backdoor plan.

10:34 PM BBT – HOH reveal time. HGs head up to see Donny and Nicole's HOH rooms.

11:17 PM BBT – Caleb tells Zach and Derrick that he thinks Donny will put him up.

11:31 PM BBT – Donny and Nicole are talking to Hayden, whom they agreed would be included in all their plans. He suggests Donny nominate Caleb and Victoria and Nicole nominate Jocasta and Zach (even though the plan is for Donny to stay HOH so this is a horrible idea). Hayden says if Caleb stays on the block, then he goes. If the veto is used then Frankie could be backdoored. Nicole seems iffy about backdooring Frankie and Hayden says Zach going wouldn't be awful.

12:15 AM BBT – Zach calls this season boring as f***. He says he'll stir up some stuff this week.

12:45 AM BBT – Cody, Hayden, and Derrick discuss solidifying their 4-HG alliance. Hayden and Cody were talking about getting Frankie out.

1:30 AM BBT – Caleb telling a story about harassing people speaking Arabic just because they reminded him of Iraq.

1:40 AM BBT – Derrick talks to Nicole about a 4-HG alliance. She's in for it. They'll work with Cody and Hayden.

2:10 AM BBT – Victoria upset that she might be going up and partnered with Caleb because he's not very good at competitions.

3:15 AM BBT – Derrick worried that he may have thrown Donny under the bus in the DR with his comments about Team America getting declined this week.

3:30 AM BBT – Victoria worried about going up on the block with Cody. Cody acts surprised even though he was expecting that.
So it sounds like those should be the nominees we get today. But with that weird mixture of nominees, Battle of the Block is anyone's game. It'll be a complete surprise to find out who wins that and which HOH is dethroned.
You can watch all of these Big Brother 16 events using the archives flashback, the DVR-like feature of this year's Live Feeds which means it's always live, even when you missed it! Sign-up now to get the free trial to watch it all live & uncensored.
click images to see full-size