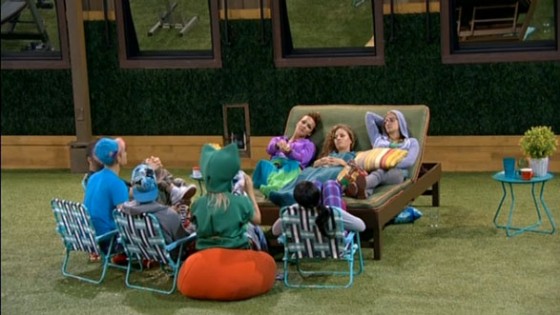 Devin continued his campaign trail as the rest of the Big Brother 16 houseguests lounged around, chit-chatted (and even schemed) on Tuesday night. By the end of the night Caleb was starting to let reality sink in about Amber and a new power-alliance formed in the HoH room.
Find out what else happened on the Big Brother feeds last night.
Big Brother 16 Live Feed Highlights – Tuesday, July 15, 2014:
4:30 PM BBT – Devin is still making his rounds on the campaign trail. He's now working on Zach. He tells him he's sorry for blowing up the alliance and for not trusting him. It goes no where.

4:40 PM BBT – Derrick and Brittany are talking about next week. They're going through scenarios and who would nominate whom if they're HOH.

5:54 PM BBT – Amber and Zach are talking about next week now. Zach is worried Victoria would put him up. Amber thinks Donny or Hayden would nominate her.

6:28 PM BBT – Zach is telling people about the fake Amanda story. He has Brittany believing it.

6:50 PM BBT – Brittany says she'd nominate Victoria if she wins HOH. Other HGs start talking about how Victoria is pointless and shouldn't be there.

7:00 PM BBT – Zach and Christien are doing laps and talking about how Donny has it out for Christine for some reason.

9:35 PM BBT – Frankie is doing some annoying characters again. This takes up a lot of time.

10:30 PM BBT – Most of the HGs are lounging outside, chatting and playing pool.

11:00 PM BBT – Amber tells Cody she wants to be closer to him, but she feels like Caleb has her trapped even though she has never given him an actual reason to think she's into him.

11:02 PM BBT – Christine and Nicole are talking. Christine wants them to vote to evict Caleb and frame Donny and Jocasta or Brittany and Jocasta.

11:45 PM BBT – Cody and Amber are getting close in the hammock. Caleb keeps a watch on them from across the backyard.

1:05 AM BBT – Zach and Cody meet in the Storage room. Cody is worried about Caleb because of Amber. Cody has concerns they are spread to far across the house and could be exposed.

3:00 AM BBT – Caleb grovels to Frankie. He's upset that Amber doesn't appreciate all the things he's doing for her. He's thinking maybe he needs to back off.

3:45 AM BBT – Cody, Christine, Frankie, Zach, and Derrick are in the HoH room. They decide to create a 5-HG alliance: Detonators. All meet in the middle and shake.

5:25 AM BBT – Downstairs alone, Derrick tells Cody he's pissed that they used up that name on that alliance. Neither trusts Frankie. Well that didn't last long.
Devin isn't going down without a fight (even if it is the slightest of fights). One of the most interesting moments from the night, however, was Christine and Nicole's plan to throw in some votes for Caleb to stir up some drama against Donny, Jocasta and Brittany.
You can watch all of these Big Brother 16 events using the archives flashback, the DVR-like feature of this year's Live Feeds which means it's always live, even when you missed it! Sign-up now to get the free trial to watch it all live & uncensored.
click images to see full-size