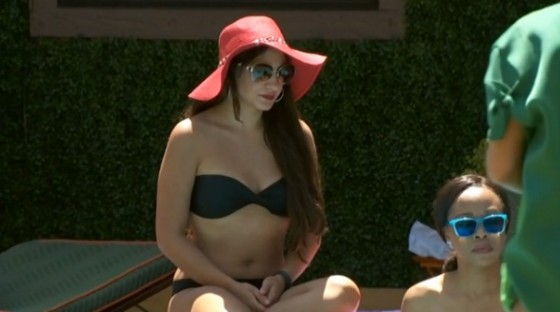 It was a lazy day in the Big Brother 16 house for everyone except Devin. He decided to really step up his campaign game and spent the day making his rounds from houseguest to houseguest. Find out what else happened on the Big Brother Feeds so far today in the house.
Big Brother 16 Live Feed Highlights – Tuesday, July 15, 2014:
9:10 AM BBT – Donny is awake.

9:30 AM BBT – Feeds cut. Wake-up time.

9:48 AM BBT – Feeds return. HGs starting to wake up and move about.

11:23 AM BBT – Jocasta and Devin are talking. He asks her if she knows that Caleb and Amber are working together. He tells her he can protect her and Caleb can't and won't.

12:00 PM BBT – Devin is talking to other HGs about the possibility of the first four evictees getting the chance to compete to come back into the game.

12:11 PM BBT – The campaign continues as Devin mentions to Derrick about the possibility of Caleb going out over him. Derrick says again that he doesn't have as much power in the house as Devin thinks.

12:50 PM BBT – Now Devin is working on Cody. He's really throwing Caleb under the bus and making a lot of valid points.

1:25 PM BBT – Devin has moved on to Donny now. He's talking to him about how close Caleb is with Amber. He also keeps including in his campaigns that he made a lot of mistakes as HOH.

1:34 PM BBT – Donny and Jocasta are talking about how they and Brittany and Victoria are always going to be on the block if certain people win HOH. Donny says they need to work together, but both agree Victoria is sketchy. Donny says she's the new Pao, meaning they can get her to do things they want.

1:39 PM BBT – Devin has moved on to Brittany. He tells her that he's alone in the house and that it would be smarter for other outsiders if he stayed. He tells her she's not his target any longer and if she was he wouldn't have removed her from the block.

1:46 PM BBT – Derrick finished his HOH blog.

1:51 PM BBT – It's picture time. Derrick got his HOH camera and heads outside to start taking photos.

1:51 PM BBT – After Derrick walked by, Donny tells Jocasta he thinks he's the ring leader, the brains of the operation. Jocasta agrees.
So Devin is working hard to campaign, but it doesn't seem to be doing much good at the moment. Everyone is listening, but no one is really latching on to the idea of spending more time with Devin in the Big Brother house.
You can watch all of these Big Brother 16 events using the archives flashback, the DVR-like feature of this year's Live Feeds which means it's always live, even when you missed it! Sign-up now to get the free trial to watch it all live & uncensored.
click images to see full-size